Google Spreadsheets.
Nooit meer
'is al in gebruik'.
Krachtige sheets met Google Spreadsheets
Google Spreadsheets is de Excel variant van Google. Het heeft alle bekende functies en meer. Met één klik op de knop kunnen allerlei databases gekoppeld worden en daarmee direct informatie van het internet opgevraagd worden. Samen met collega's en klanten kunnen jullie tegelijkertijd in hetzelfde bestand werken.
Met Google Spreadsheet maken jullie echt krachtige sheets.
Automatisch opslaan
Terwijl jullie aan het werk zijn in Google Spreadsheets worden wijzigingen automatisch opgeslagen. Valt de verbinding plots weg, sluiten jullie per ongeluk het verkeerde venster, is de accu leeg of een ander ongunstig scenario? Jullie wijzigingen zijn veilig.
Er wordt een revisie geschiedenis bijgehouden die jullie er altijd bij kunnen pakken. In deze geschiedenis is zichtvaar welke wijzingen er door wie zijn gemaakt, netjes gesorteerd op datum.
Grafieken en diagrammen
Hebben jullie de voorkeur voor overzichtelijke, kleurrijke diagrammen? Dan zitten jullie bij Google Spreadsheets goed. Dankzij de ingebouwde formules, draaitabellen en opmaak opties besparen jullie een hoop tijd. Hierdoor gaat het werken een stuk eenvoudiger en verwerken jullie gegevens zodat jullie er echt iets aan hebben.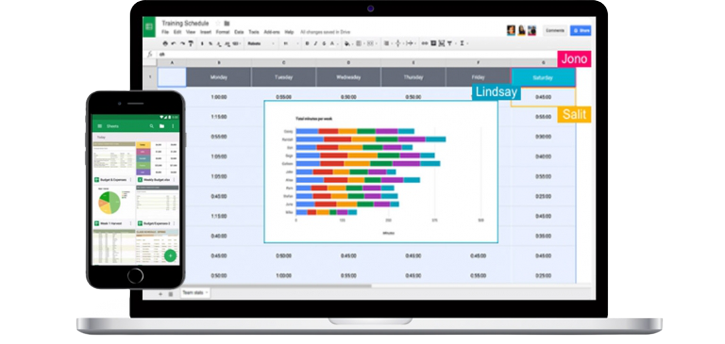 Microsoft Excel vergelijken met Google Spreadsheets
Google Spreadsheets ligt qua functies ruim voor op Microsoft Excel. Ook externe koppelingen en analyse zijn in Spreadsheets beter ontwikkeld.
Zo zitten er ongeveer 150 functies meer in dan in Excel. In Excel zitten er ongeveer 25 functies die nog niet in Spreadsheets zitten.
Maar qua uiterlijk lijken de twee systemen redelijk op elkaar.
Openen en bewerken met op de telefoon, tablet of computer
Spreadsheets kan op ieder apparaat geopend worden. Geen internet? Offline werken is ook geen probleem. Jullie hebben altijd en overal toegang tot jullie sheets en gegevens. Hetzelfde geldt o.a. voor Google Documenten, ook daarmee zijn de mogelijkheden groot.
Verbinden, creëren, opslaan.
Werken met de kracht en intelligentie van Google. Alles wat jullie nodig hebben om te kunnen werken, compleet in één pakket in de cloud.