Elke keer als ik hoor dat een klant gehackt is, gaat me dat weer aan het hart. En ik hoor het steeds vaker. Natuurlijk kan het de beste overkomen. Wapen jezelf met deze 4 eenvoudige tip in de strijd met de hackers die het op je gemunt hebben.
Tip nummer 1: Gebruik tweestapsverificatie
Dit is de belangrijkste en meest effectieve tip: zet tweestapsverificatie aan. Of het nu gaat om Google Workspace, Gmail, Whatsapp, Telegram, Signal, Facebook, Instagram, Twitter, Snapchat, Clubhouse: zet tweestapsverificatie aan, overal waar dat mogelijk is. Ik kan niet duidelijker zijn: bescherm je account, en daarmee je veiligheid, met tweestapsverificatie. Kleine moeite, groot plezier.
Tip nummer 2: Wees gezond argwanend
Als je een telefoontje krijgt van een onbekend nummer, is er maar één toets op je telefoon die je moet indrukken: de rode toets. Blokkeer het nummer en ga verder met je leven. Krijg je een onverwachte mail met een link waar je op moet klikken? Ongezien verwijderen. Direct. Punt. Wees gezond argwanend.
Tip nummer 3: Reset een wachtwoord als je het niet vertrouwt
Soms krijg je een melding dat een dienst gehackt is, of dat je wachtwoord fout is, terwijl je zeker weet dat het het juiste wachtwoord is. Onthoud deze regel: bij twijfel je wachtwoord resetten. Beter ten halve gekeerd dan ten hele gedwaald. Wil je controleren of je mailadres in een database zit die gehackt is? Check dan: Have I been Pwned?. Vul je mailadres in. Sta je ertussen? Reset dan je wachtwoord van die dienst.
Tip nummer 4: Gebruik lange wachtwoorden als tweestapsverificatie niet mogelijk is
Lange wachtwoorden zijn simpelweg veiliger dan zogenaamd moeilijke, korte wachtwoorden. Onderstaande illustratie legt heel helder uit waarom dat zo is.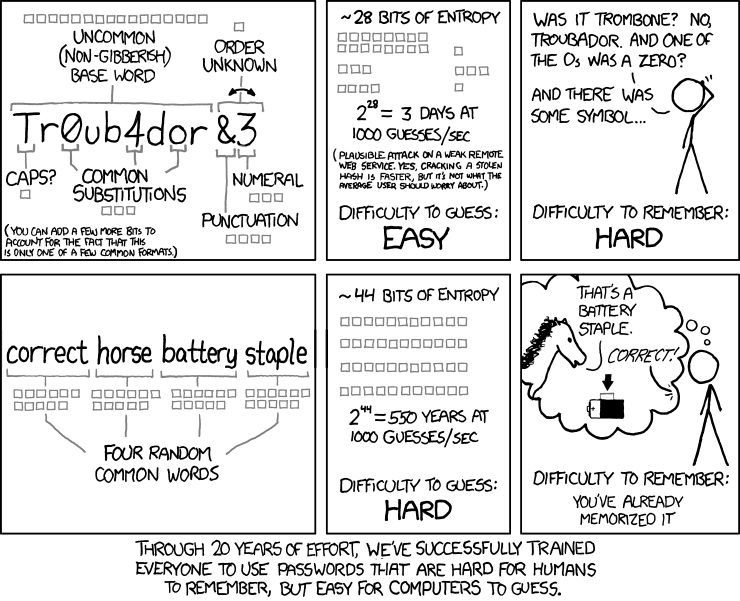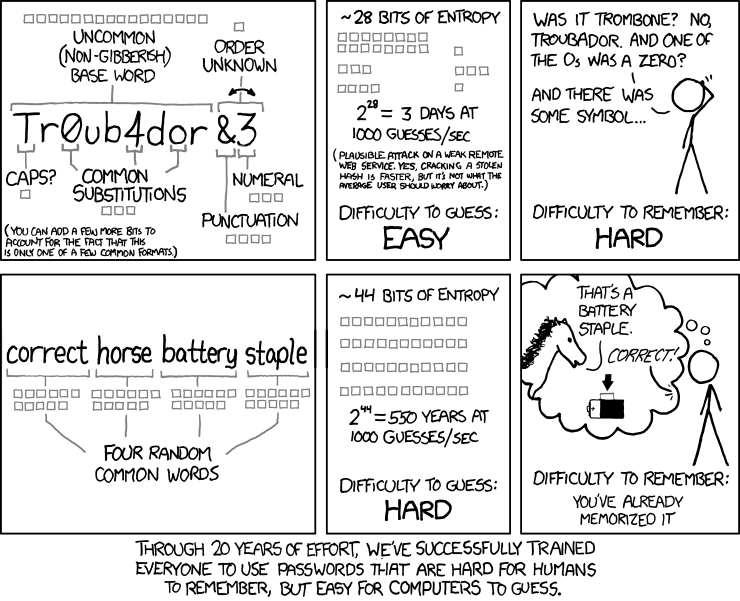 Bron: https://xkcd.com/936/
Samenvatting
Gebruik tweestapsverificatie, dan ben je al vrijwel niet meer te hacken. En blijf scherp. Dat zijn de beste manieren om je te wapenen tegen hackers.
Nieuwsgierig?
Benieuwd hoe veilig werken met Google Workspace is en hoe het ervoor zorgt dat je eenvoudigweg minder securityzorgen hebt? Neem gerust contact met ons op. We leggen je met liefde alles uit.
Samen maken we deze wereld veiliger.