Snel en moeiteloos werken in Google Documenten
Google Documenten heeft veel functies die ervoor zorgen dat je jouw bestanden makkelijk kunt beheren en opmaken. Maar veel van deze functies blijven onopgemerkt en dat vinden wij zonde. In het vorige deel 5 tips om jouw Google Documenten mooier te maken hebben we je kennis laten maken met de eerste 5 handige functies van Documenten. In het tweede deel geven we je graag nog eens een aantal tips waardoor jij sneller en makkelijker kunt werken in Documenten. 
6. Navigatie sidebar
Werk je in een document die je onderscheid met meerdere koppen? Dan is het fijn als je een inhoudsopgave beschikbaar hebt voor de snelle navigatie door het document heen. Snel en gemakkelijk kun je door de verschillende koppen klikken in het menu aan de zijkant. Hoe stel je deze in? In de menubalk ga je naar 'Invoegen', onderaan staat 'Inhoudsopgave'. Als jij de tussenkoppen de juiste opmaak geeft van header tot kop 1 t/m kop 4, dan zorgt Documenten voor een kloppende en snelle navigatie in jouw document.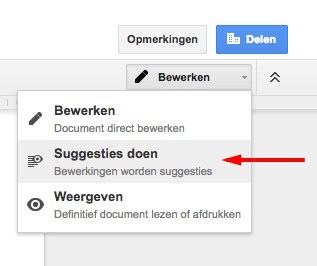 7. Suggestie modus
De mogelijkheid om in een document wijzigingen te maken is heel fijn, maar soms wil je enkel veranderingen suggereren, zonder deze door te voeren. Zo kan degene die hierover gaat zelf bepalen of hij/zij deze verandering wel of niet wilt doorvoeren. Daarom heb je in Google Documenten de 'Suggestie modus'.
Hoe je deze modus aanzet? Dat doe je door in een Document rechtsboven in bij het potlood 'Bewerken' om te schakelen naar 'Suggesties doen'.
Vanaf nu wordt alles dat je toevoegt, verwijdert of veranderd gemarkeerd als gekleurd vlak in het document. Vergezeld met de details aan de rechterkant van de pagina, met daarin de naam van degene die de suggestie heeft gemaakt en een tijdsmarkering.

8. Opmerkingen
Werk je in een document en wil je over iets een vraag stellen, een notitie maken of een verandering highlighten, dan kun je je opmerkingen direct in het document achterlaten. De opmerkingen kunnen als conversatie gelezen worden, zo kunnen verschillende mensen hierop reageren en komen jullie samen tot jullie einddoel. Is het gesprek klaar, dan kun je de conversatie sluiten. Ook kun je opmerkingen bewerken of verwijderen.
Een opmerking toevoegen kan op twee manieren. Voor manier een selecteer je eerst de zin of het woord waar je een opmerking over wilt maken. Vervolgens ga je naar de menubalk en kies je voor 'Invoegen' > 'Opmerking'.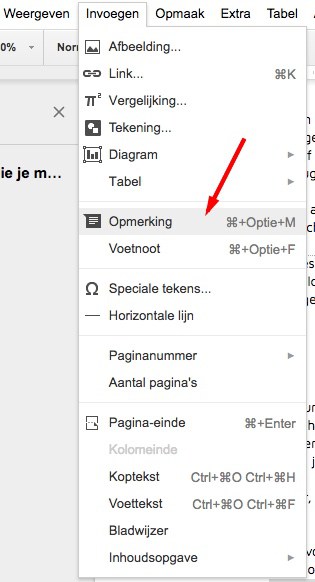 Aan de rechterkant van je scherm verschijnt dan een veld waar je jouw opmerking kunt achterlaten.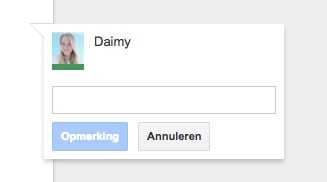 De tweede manier is door het woord te selecteren, waarna aan de rechterkant een icoon verschijnt. Wanneer je hierop klikt krijg je direct het opmerkingenveld.

9. De zoekopdracht tool
De zoekopdracht functie in Google Documenten is echt een uitvinding voor de mensen die veel online research doen. Dit omdat het je de mogelijkheid geeft meer informatie over een bepaald onderwerp en bijpassende afbeeldingen online op te halen, zonder dat je het document hoeft te verlaten. Geen geklik meer tussen de verschillende tabbladen.
Je kunt deze functie op drie manieren toepassen op je computer. We leggen ze je ieder uit. Wanneer je in het document bent waarover de iets wilt onderzoeken, ga je naar …
Manier 1: Selecteer het zoekwoord dat je wilt verkennen. Ga in de menubalk naar 'Extra' > 'Verkennen'.
Manier 2: Selecteer het zoekwoord dat je wilt  verkennen en klik op je rechtermuisknop. Klik daar op 'jouw geselecteerde zoekwoord' verkennen.
Manier 3: Of gebruik de shortcut met je toetsenbord:
Apple: Ctrl + Cmd + Shift + I
Windows: Ctrl + Alt + Shift + I
Een voorbeeld van de rechtermuisknop als wij zoeken op 'Kittens':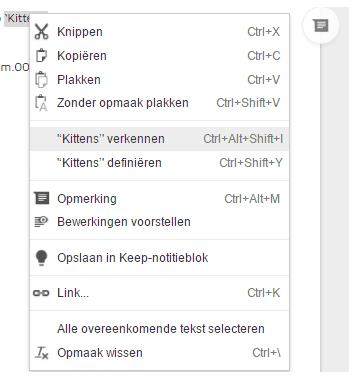 Vervolgens verschijnt er aan de rechterkant het Verkennen scherm met allemaal afbeeldingen van super lieve kittens. (Ja, dit blog is geschreven door een vouw.)

10. Geschiedenis terughalen
In Google Documenten heb je geen dubbele versies, je werkt samen in een document en die versie wordt continu opgeslagen. Het nadeel hiervan kan zijn dat je sommige wijzigingen liever niet had door willen voeren. Maar het is nu eenmaal al opgeslagen. Ook hier heeft Google rekening mee gehouden, je kunt de geschiedenis van een document inzien en wijzigingen herstellen dankzij de Revisiegeschiedenis.
De Revisiegeschiedenis open je door in de menubalk naar 'Bestand' → 'Revisiegeschiedenis bekijken' te openen. Hier kun je alle wijzigingen zien die iedereen heeft gemaakt, inclusief de datum en tijd dat de wijziging is gemaakt. Door op een van de notities te klikken krijg je de mogelijkheid te zien, bovenin het document, om de wijziging te herstellen.

Meer handige functies?
We hopen dat je met behulp van deze 5 tips sneller en makkelijker kunt werken in Google Documenten. Wil je ook de eerste 5 tips lezen die jou helpen je documenten mooier op te maken? Bekijk dan het vorige blog en upgrade jouw kennis van Google Documenten zodat je nog soepeler kunt werken voortaan.