Het moment waarop de beste ideeën ontstaan, de banden tussen collega's versterkt worden en de samenwerking een boost krijgt. Dat is wat brainstormen allemaal teweegbrengt. Maar hoe zorg je er nu voor dat de brainstormsessies ook super effectief zijn? Wij geven je graag 5 tips die wij zelf ook gebruiken.
Met deze tips, jouw gemotiveerde collega's en door het gebruik van het Google Jamboard worden jullie brainstormsessies effectiever, duidelijker en leuker. Laten we beginnen!
1. Stroomlijn de ideeën
Wat altijd goed is om te doen, is het vooraf vaststellen van doelen. Bij een brainstormsessie stromen de ideeën en mogelijkheden eruit alsof de biertap open staat op een zaterdagavond. Dit is zeker goed! Maar nog beter is om de ideeën te stroomlijnen, zorg dat de aandacht op één aspect blijft, zodat er tot in de details kan worden nagedacht en er zaken concreet gemaakt kunnen worden. Pak eerst de kern van het doel aan en werk later pas toe naar de uitgebreidere vormgeving en aanvullende opties.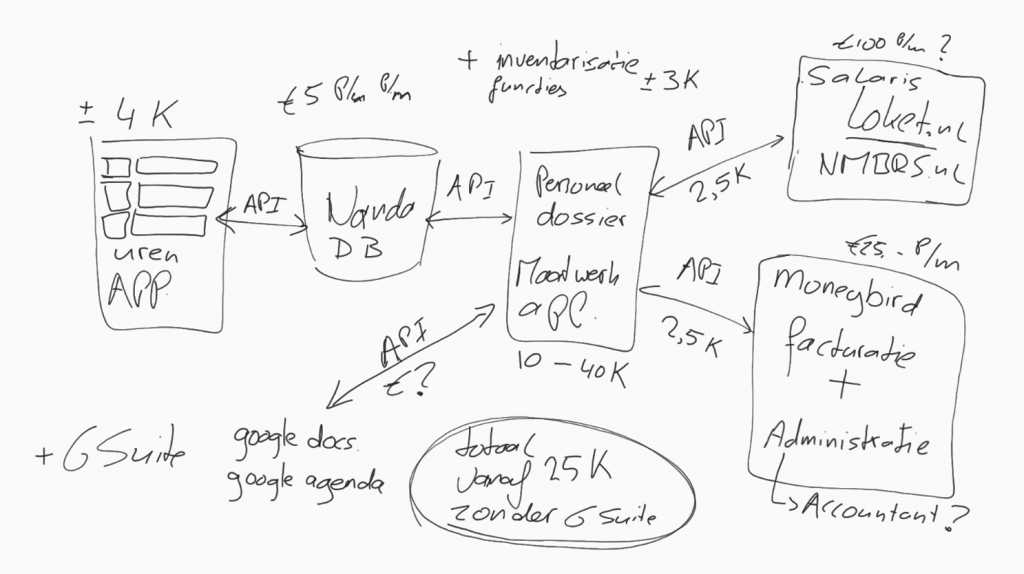 Het idee dat je in je hoofd hebt uittekenen, verbinden en als totaalplaatje zien. Dan heb je de kern en het overzicht en kun je doorpakken op details en de uitwerking.
[review id="15797″]
2. Verander de aanpak, omgeving en brainstorm-deelnemers
Probeer om niet altijd op dezelfde manier te brainstormen. Verandering is goed, dat brengt nieuwe inzichten en ideeën met zich mee.
In plaats van in de aparte ruimte te gaan zitten, ga eens naar een lunchroom in de buurt.
Zijn jullie brainstorm altijd op papier, pak er dan eens elektronica bij.
Gebruiken jullie alleen woorden, voeg er dan beeld bij.
Voor de inzichten is het heel goed om niet altijd met dezelfde mensen te gaan zitten. Nodig bijvoorbeeld de developers er eens bij uit. Door de nieuwe samenstellingen ontstaan er al gauw vernieuwende inzichten.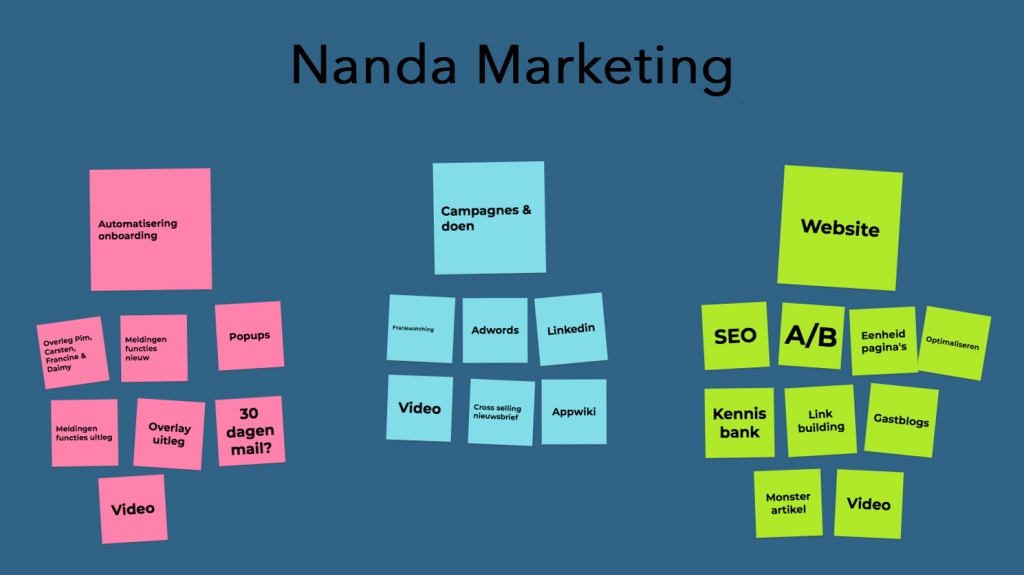 Brainstormen met echte of digitale post its. Ze helpen je om in een leuk uitziende vorm jouw ideeën goed te sorteren.
Waarom we adviseren met verschillende afdelingen te brainstormen? Een voorbeeld; onze marketing afdeling verzint allemaal toffe ideeën tijdens een brainstorm. Alles wordt gedetailleerd uitgewerkt en we leggen het voor aan onze webdeveloper. En dan blijkt ineens dat een deel van onze ideeën niet haalbaar zijn of heel veel tijd gaan kosten om het technisch te realiseren. Handig om dit soort problemen te voorkomen. Dat scheelt tijd, energie en frustratie.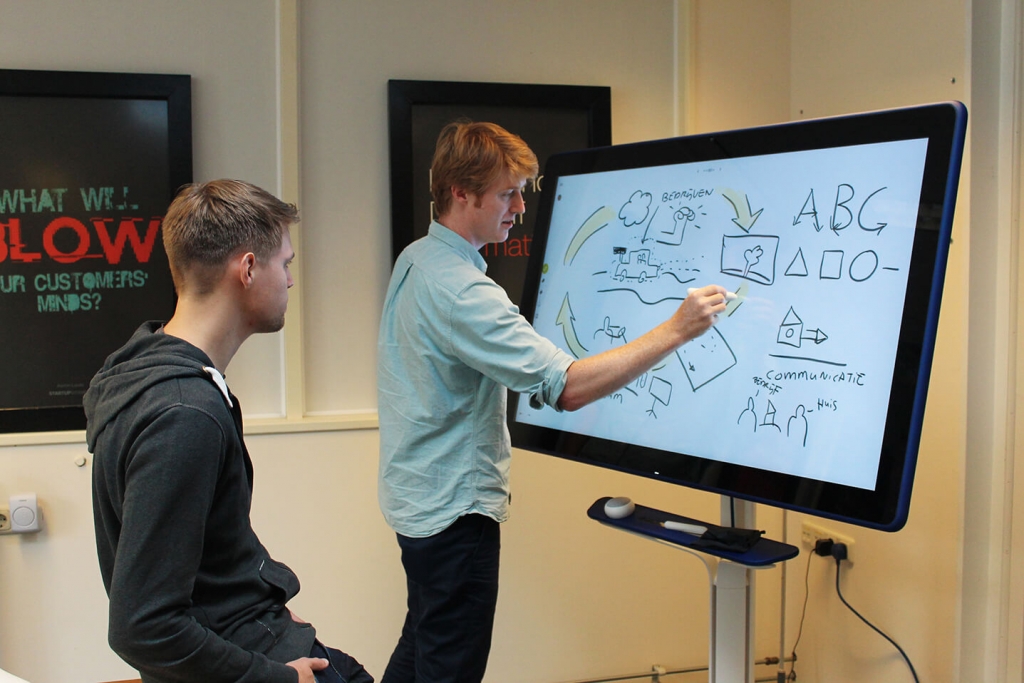 3. Brandt de ander niet af
Om de creatieve gedachten bij ieder te activeren, is het belangrijk dat iedereen op zijn gemak is. Iemand die alle input die door andere gegeven wordt afbrandt en negatief reageert, werkt gewoon niet zo bemoedigend.
Probeer in plaats van 'Ja, maar…' eens 'Ja, en…' te zeggen. Vul ideeën aan in plaats van ze af te kraken. Probeer de ander goed te begrijpen, zie oplossingen of aanvullingen. En vooral; geef andere de ruimte om wat te zeggen. Zij kunnen weer inzichten hebben waar jij nog niet aan gedacht hebt.
4. Geef vorm aan de ideeën
Een idee kan ik jouw hoofd zo goed klinken en er prachtig uitzien, maar kan soms wat moeilijk uit te leggen zijn aan je collega's. Ikzelf heb hier wel eens 'last' van. Wat hierbij helpt is het vorm te geven. Met het Google Jamboard kun je digitale moodboards maken of precies uittekenen wat jij bedoelt. Ideaal, want wat kan beter een beeld geven dan daadwerkelijke beelden? Ik ben er in ieder geval gek op.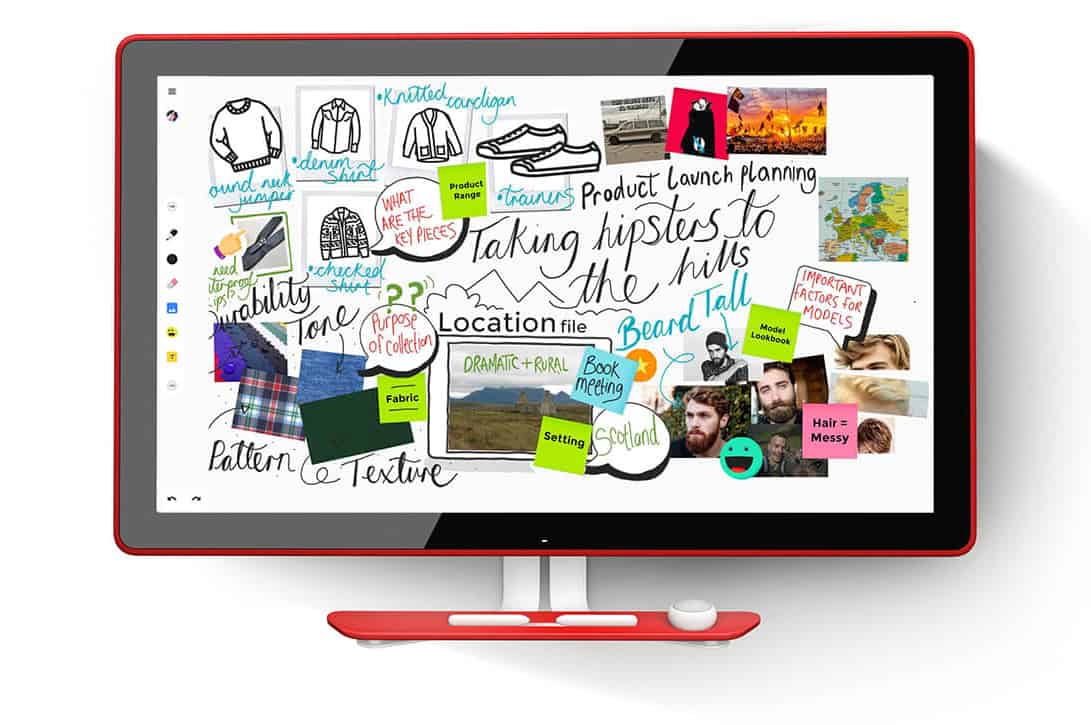 Google Jamboard?
Met het Google Jamboard kun je je leker creatief uitlaten: Afbeeldingen toevoegen, figuren tekenen of toevoegen, met verschillende kleuren werken, jouw handschrift gebruiken of nette letters en samen met meerdere collega's tegelijkertijd op het bord werken. Het is zo leuk!
Wij hebben het Jamboard op kantoor staan en wij pakken hem er bijna dagelijks bij. Het helpt ons om alles wat in ons hoofd zit vorm te geven, een idee wordt een concept. En vanaf daar kunnen we ermee aan de slag en het concreet maken.
5. Denk vanuit het oogpunt de doelgroep
Wat aan veel mensen nog wel eens voorbij wilt gaan; is dat niet alles wat zij bedenken, ook werkt voor de doelgroep. Jij kan iets prachtig vinden, maar draagt het ook bij aan jouw doel, bijvoorbeeld de conversie? Hebben jullie een nieuwe feature bedacht voor een applicatie waarvan jullie denken dat die echt super goed is? Weet je dan ook zeker dat dit voor de klant een aanvulling is en niet een extra optie de het minder simpel maakt? Soms zul je jouw eigen mening en ideaalbeeld opzij moeten leggen en goed moeten bedenken; is dit wat mijn doelgroep wilt? Is dit van toegevoegde waarde voor hen?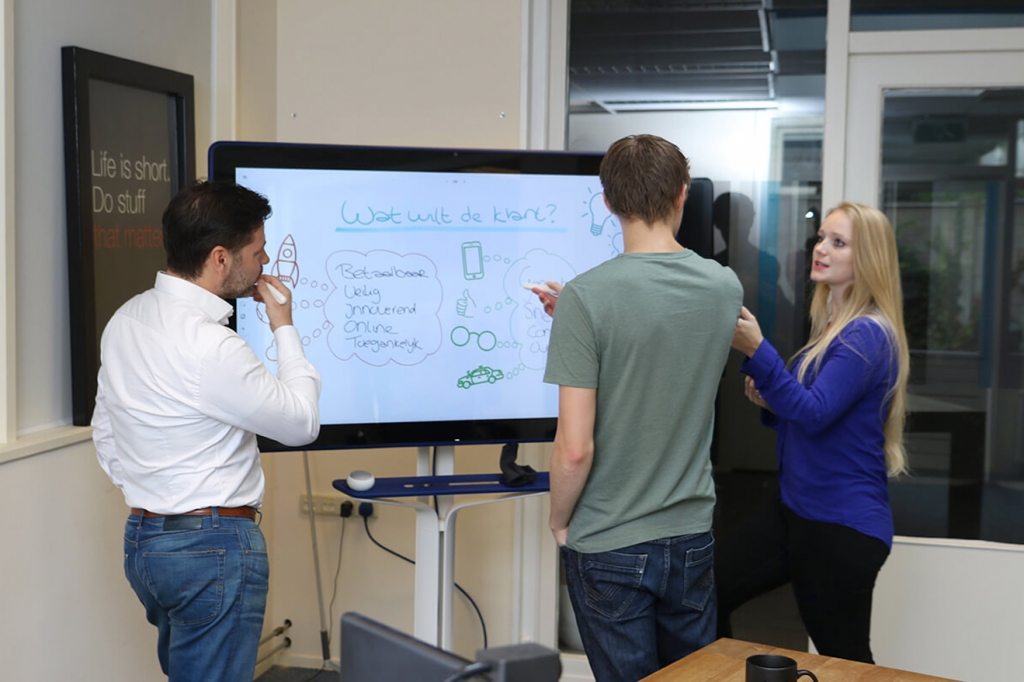 6. Laat het even rusten
Na zo' brainstorm zit je vaak vol energie en wil je aan de slag. Knallen! Maar vaak is het een goed idee om de boel even de boel te laten en het te laten rusten. Bekijk later met een frisse blik nogmaals naar de ideeën. Wellicht zie je waar nog wat meer aandacht op gevestigd moet worden of ontdek je foutjes in het plan. Fijn om dat te voorkomen dan later op te lossen.
Hoe pakken wij het brainstormen aan?
Hoe zien onze brainstormsessies eruit? Wellicht vind je het wel leuk om te zien hoe wij onze brainstorms vormgeven. Wie weet kun je er wat inspiratie uithalen 🙂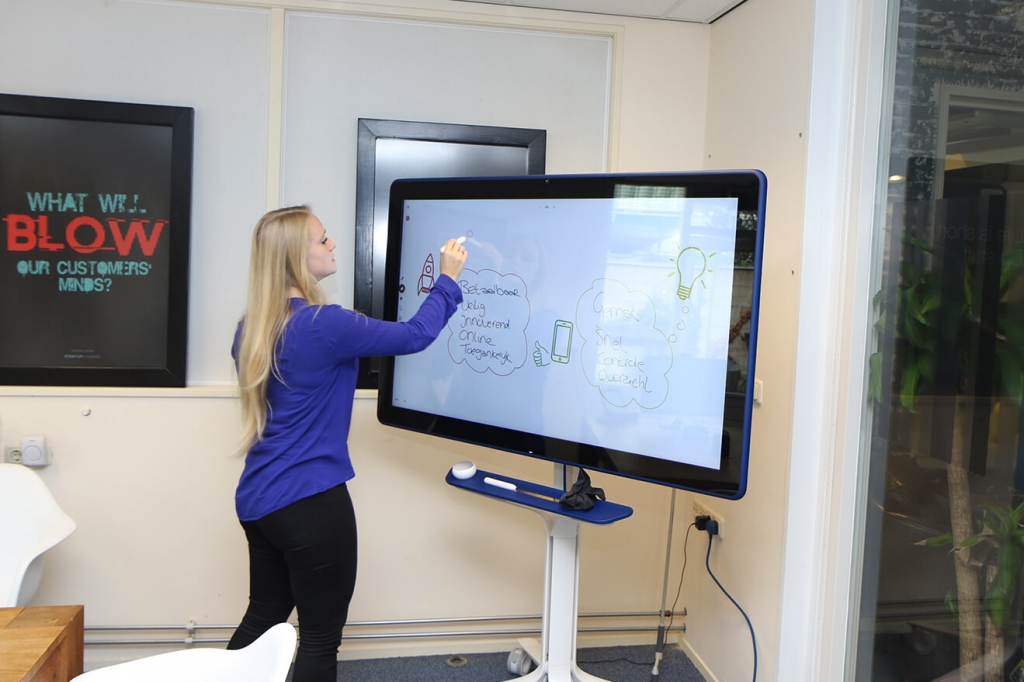 Hier de voorbereiding van een brainstormsessie van mij alleen. In dit geval wilde ik goed beslagen ten ijs komen en direct starten met de verdere uitwerking van de brainstorm.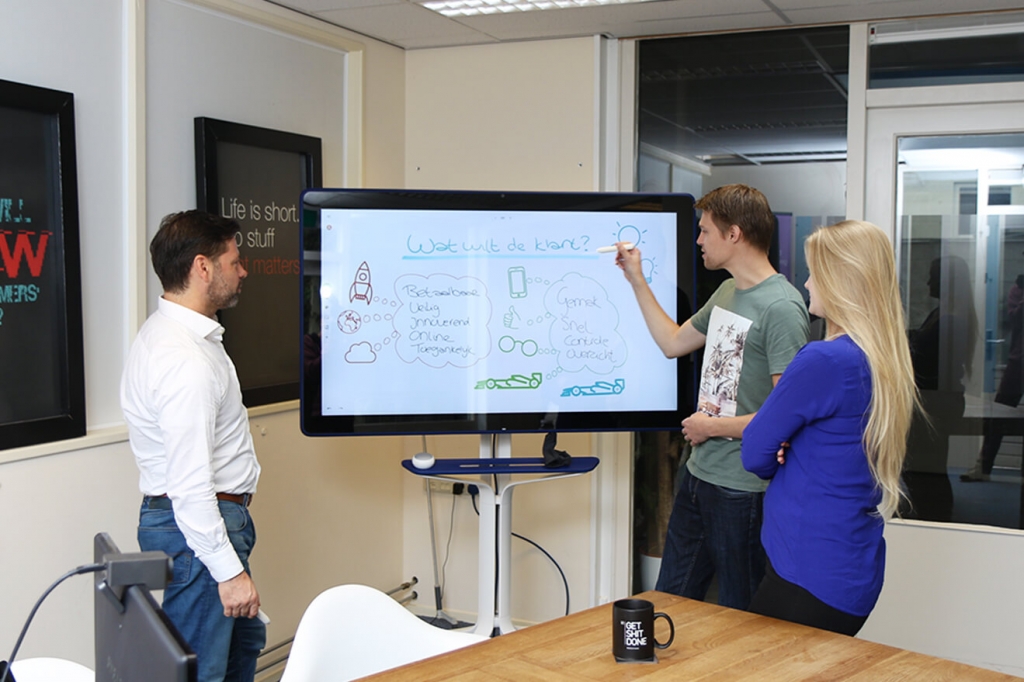 Het doorpakken van de ideeën, bespreken hoe Justin en Kees-Jan er tegenaan kijken. Koppelingen leggen, nieuwe inzichten krijgen.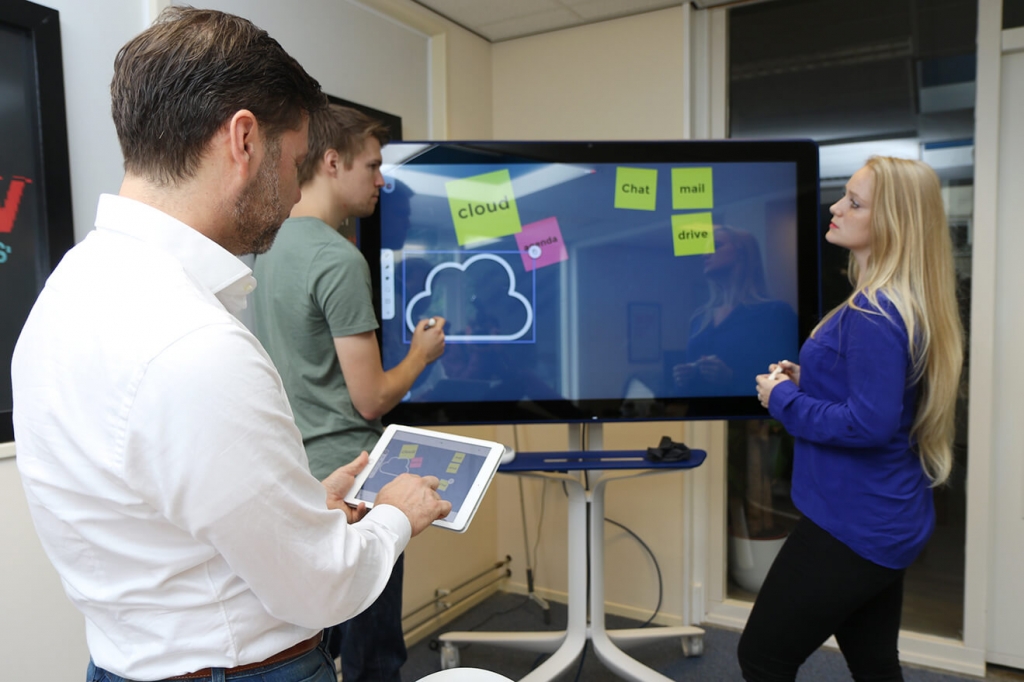 En dan blijft het nooit bij maar één slide, je pakt door op ideeën en in dit geval zijn we iets dieper in de uitwerking gedoken.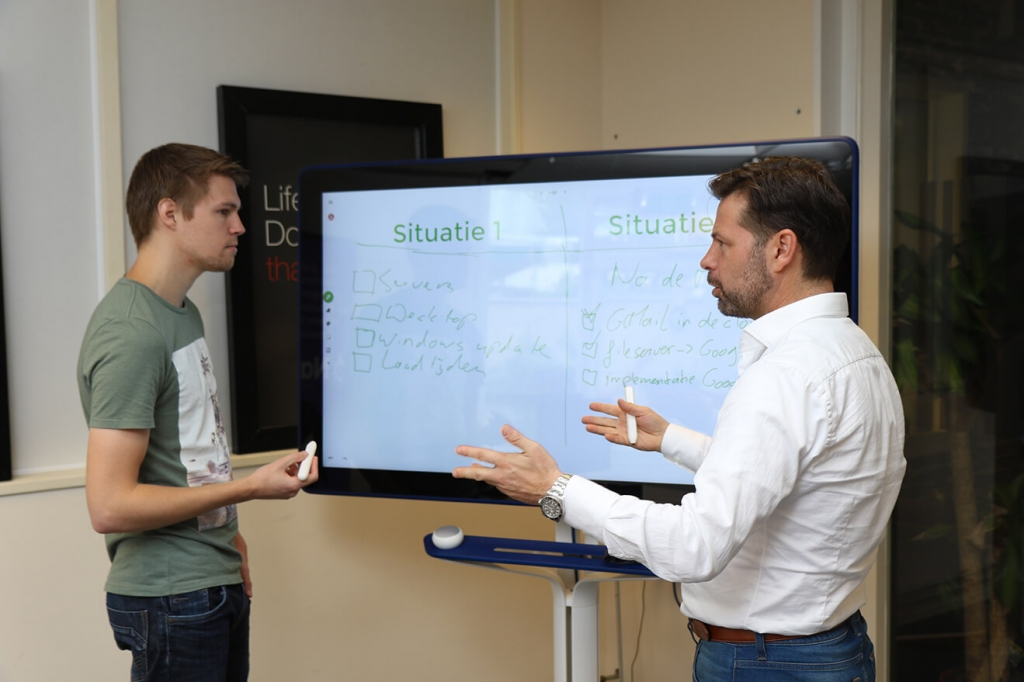 Justin en Kees-Jan pakte na onze brainstormsessie er nog een momentje samen om de voortgang van een migratie naar G Suite van een klant te bespreken. Waarom ook niet?