Google lanceert regelmatig nieuwe tools om G Suite te verbeteren. Dankzij deze nieuwe tools kunnen jullie meer tijd besparen en je focussen op wat echt belangrijk is en direct aan de slag gaan met zinvol werk. Maar dan nog sneller!
Dit keer heeft Google wat gevonden om tijd besparen met het opmaken van templates. Het kost veel tijd om iedere keer een rapport de gewenste opmaak te geven. Soms doe je dit wel meerdere keren per dag. De tijd die je daar aan kwijt bent had je ook kunnen besteden aan het behalen van resultaten. Daar moet de focus op liggen.
Opgemaakte templates
Voortaan kun je custom opgemaakte templates in Documenten, Spreadsheets, Presentaties en Formulieren opslaan als sjabloon, die jij en je team vaak gebruiken. Je hoeft niet meer iedere keer het document op te maken, maar met een paar simpele klikken heb je het sjabloon voor je en kun je aan het werk.
Je kunt heel simpel templates toevoegen aan de gedeelde template galerij in Documenten, Spreadsheets, Presentaties en Formulieren. Wanneer jij of je iemand van het team regelmatig een bepaald opgemaakt template nodig heeft, is deze heel snel gevonden. Denk bijvoorbeeld aan facturen, brieven, (communicatie)plannen, enzovoorts. Je hoeft je nu niet meer te focussen op de opmaak maar je kunt gelijk door met het behalen van succes!
Alle G Suite klanten kunnen opgemaakte templates toevoegen aan de galerij. Bij klanten die met G Suite voor Business en Educatie werken kan zijn dat er bepaalde eisen aan het document worden gesteld vanuit de organisatie, waardoor de templates eerst goedgekeurd moeten worden voordat ze in de galerij verschijnen.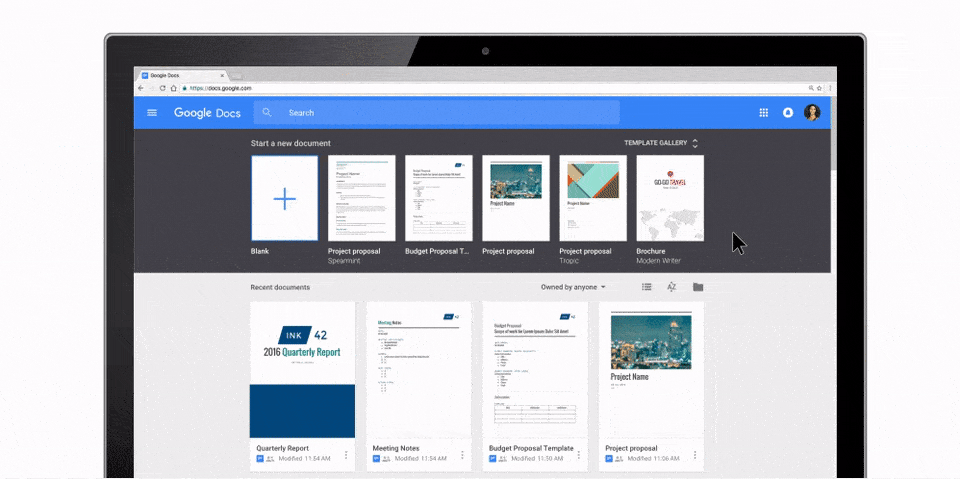 Zit je al in een document en wil je graag een template openen? Dat werkt als volgt. Je klikt linksboven op de Startpagina van het document . Daar verschijnt dan de template galerij waar door jou/jullie aangemaakte templates in staan.

G Suite Business aanbieding
Google Apps Unlimited heeft een andere naam gekregen: G Suite Business. Hiervoor heeft Google een leuke aanbieding, je hebt nu de kans om van de tijdelijke aanbieding gebruik te maken. Je kunt jouw G Suite Basic (Google Apps) account upgraden naar G Suite Business (Google Apps Unlimited).
Wanneer je jouw G Suite Basic account upgrade, kun je gebruik maken van extra functionaliteiten:
Nooit meer gezeur over opslagruimte: letterlijk onbeperkte opslagruimte in Google Drive voor iedereen.
Maak binnenkort gebruik van de gloednieuwe Team Drives (meer hierover in de volgende update).
Uitgebreide Drive logs om te zien wat er met alle bestanden gebeurt.
Ongelimiteerde archivering voor alle e-mail data, inclusief de verwijderde e-mails. In het geval van een juridische noodzaak ben je in staat om iedere e-mail binnen 24 uur te overleggen.
De mogelijkheid om per medewerker te bepalen of extern delen in- of uitgeschakeld is.

Wat houd de aanbieding precies in? Heb je al een G Suite account? Dan krijg je 18 maanden G Suite Business voor de prijs van 12 maanden als je upgrade. Je krijgt dus 6 maanden gratis! Laat het ons voor donderdag 15 december weten, dan zetten we jouw account om. Ben je geïnteresseerd en wil je graag gebruik maken van de aanbieding? Neem dan contact met ons op!
* Voorwaarden zijn van toepassing