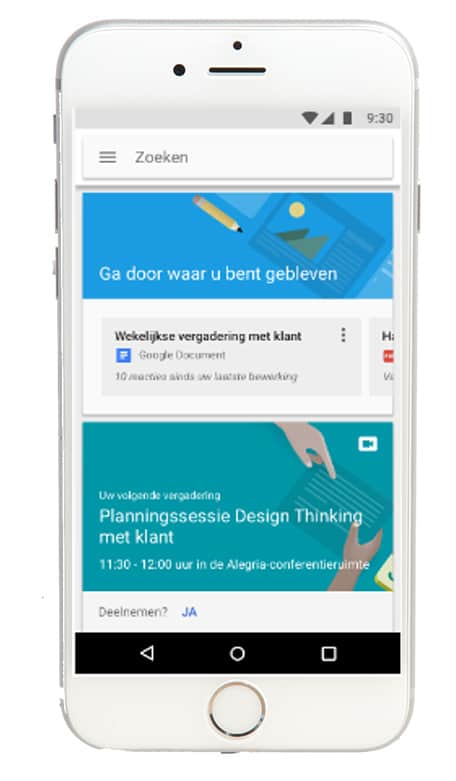 Elke dag rekenen mensen over de hele wereld op Google Search om toegang te krijgen tot alle informatie op het internet. Google ziet zelfs dat er jaarlijks meer dan één triljoen zoekopdrachten worden gemaakt. Zolang Google blijft investeren in nieuwe cloud based technology, zoals machine intelligentie, om de web search engine te versterken, willen zij dat ook bedrijven die G Suite Business hebben van deze technologische ontwikkelingen gebruik kunnen maken. Hiermee kunnen Business klanten met dezelfde technologie intern zoeken naar bestanden en informatie. In februari is Google Cloud Search gelanceerd: een nieuw product dat machine intelligentie gebruikt om eenzelfde zoekervaring als op internet te bieden bij G Suite.
Gemakkelijk zoeken met Google Cloud Search
Zoeken door interne informatie wordt steeds complexer, naarmate meer en meer bedrijven hun gegevens en bestanden verplaatsen naar de cloud. Als gevolg hiervan werken teams in hybride omgevingen en slaan zij enorme hoeveelheden data op in verschillende formaten. Van e-mails tot Docs, Spreadsheets, formulieren en nog veel meer. Volgens onderzoek van McKinsey spenderen werknemers ongeveer 20% van hun werkweek aan het opzoeken van bestanden en informatie. Simpel gezegd; werknemers verspillen veel tijd met zoeken naar informatie die zij nodig hebben om hun werk te kunnen doen.
Een slimme zoekervaring, gebaseerd op jouw behoeften
Google Cloud Search brengt het beste van Google Search en machine intelligentie naar G Suite. Het biedt je de mogelijkheid om uitgebreid te zoeken en geeft aanbevelingen die je de hele dag door helpen. Om een voorbeeld te noemen: Wanneer je de Cloud Search app opent op je mobiel of op je computer, zie je relevante informatie georganiseerd in kaarten. Deze helpen je om bovenop je werk te zitten. Deze kaarten zijn een nieuwe manier om de juiste informatie op de juiste tijd te verkrijgen. Doordat er gebruik wordt gemaakt van intelligente technologie, kunnen deze kaarten je helpen voorbereiden voor een vergadering of geven ze een suggestie van een bestand dat jouw aandacht nodig heeft.
Naast het zoeken naar informatie en bestanden, kun je ook zoeken naar personen binnen de organisatie. Wanneer je zoekt naar personen zie je de contactdetails van die persoon en evenementen en bestanden waar jullie beide toegang tot hebben.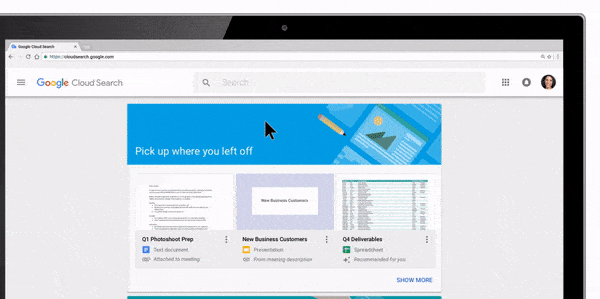 Zichtbaarheid
Voor bedrijven is de privacy een topprioriteit. Cloud Search respecteert de toestemming die is gegeven om bestanden te delen in G Suite, zodat mensen enkel bestanden kunnen opzoeken en vinden waar zij toegang tot hebben. Zo zijn openbare bestanden zoals vakantieregelingen beschikbaar voor iedereen in de organisatie. Maar bestanden over projecten komen alleen tevoorschijn voor mensen in jouw team. En jouw to-do lijstjes zijn enkel zichtbaar voor jou.
Er komt nog meer naar G Suite
Google Cloud Search zal wereldwijd uitrollen voor alle G Suite Business en Enterprise klanten. En dit is nog maar het begin. In de toekomst zal Google steeds meer mogelijkheden toevoegen aan Cloud Search. Zo ook de integratie met derde partijen. Op deze manier kunnen jij en je team het meeste halen uit G Suite.
Vragen?
Heb je vragen over Google Cloud Search of over G Suite zelf? Je kunt ze ons altijd stellen. Mail, bel of chat met ons en dan helpen we je graag verder. Ben je geïnteresseerd in G Suite en wil je aangesloten worden? Ook daarmee kunnen wij jou helpen!