Je zult het icoontje ongetwijfeld herkennen wanneer je werkt met de producten van Google. De Verkennen functie. Maar weet je ook wat je er allemaal kunt? Omdat dit een handige, maar vaak nog onontdekte functie is, leggen we hem aan je uit.
Verkennen
De functie zit in Google Documenten, Spreadsheets en Presentaties. Om er voor te zorgen dat we het over hetzelfde hebben, dit is het icoon dat we bedoelen: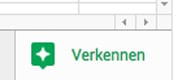 Verkennen zorgt ervoor dat jij sneller werkt en navigeert. Je hoeft geen extra tabbladen meer te openen om te zoeken in Google Drive naar een aanvullend bestand of afbeelding. Ook hoef je geen tabblad meer te openen om een afbeelding toe te voegen vanuit internet. Verkennen haalt deze extra stappen er voor je uit.
Aanvullende informatie vanuit Google Drive
Ben je in bijvoorbeeld Documenten een artikel aan het schrijven en wil je doorlinken naar een ander Document, een Spreadsheets of Presentatie? Dan kun je dit doen met Verkennen. Je klikt op Verkennen, dan op 'Drive', typt daar de naam van het document of het onderwerp in en kunt een link toevoegen naar dat bestand.
Dit is een stuk sneller dan Drive openen, het bestand opzoeken, openen en de link kopiëren en plakken.
Zo kun je heel simpel jouw bestanden met elkaar verbinden. Handig wanneer je bijvoorbeeld een financieel stuk schrijft en daarvoor wilt doorverwijzen naar een berekening in Spreadsheets.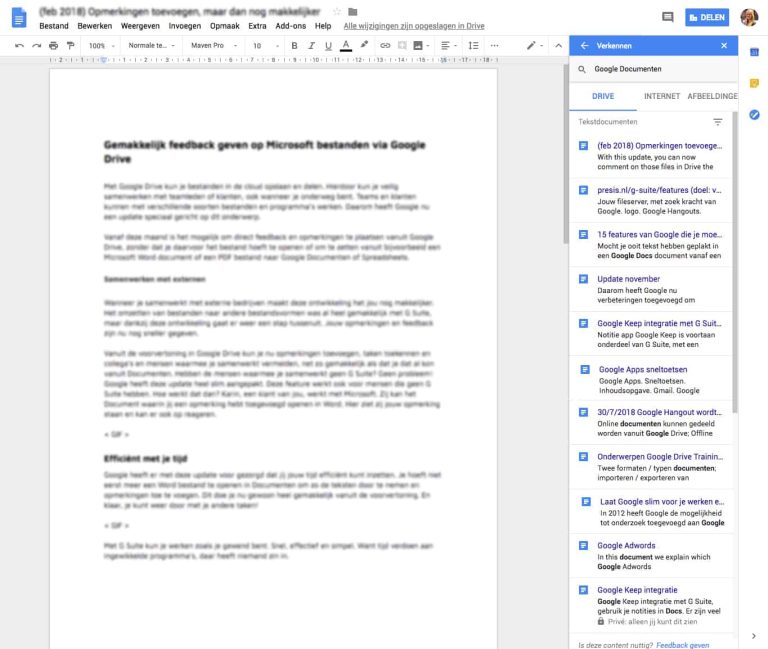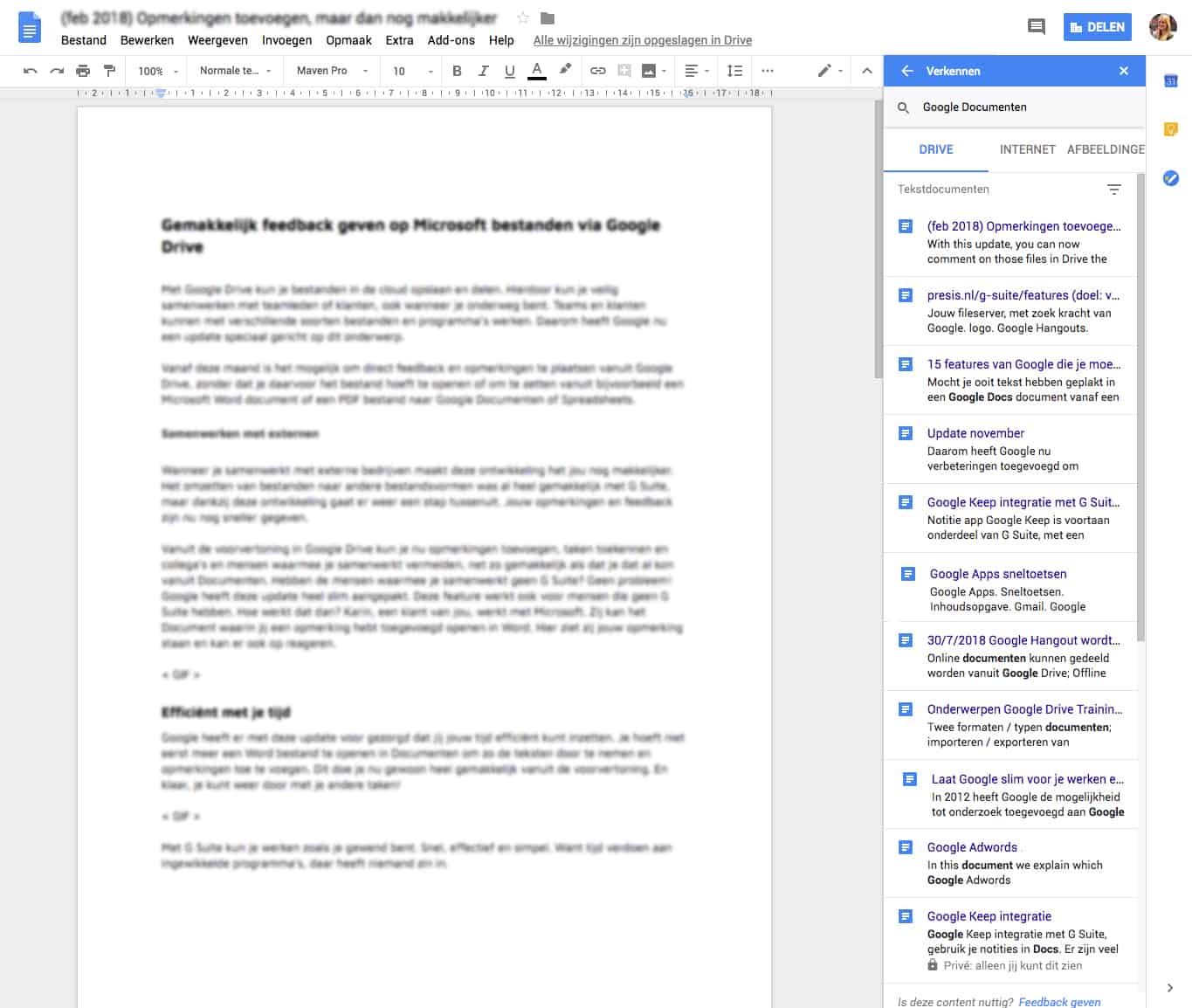 Extra handig; je kunt ook filteren. Wil je alleen de resultaten voor tekstdocumenten, Spreadsheets, afbeeldingen, etc? Jij kiest, Google zoekt.

Afbeeldingen toevoegen van internet
Met Verkennen kun je heel gemakkelijk, zonder dat je hoeft te wisselen van tabblad, afbeeldingen van internet toevoegen. Bijvoorbeeld; je bent een stuk aan het schrijven over.. Paarden. Want je dochter heeft een werkstuk over paarden. Samen hebben jullie de spreekbeurt opgesteld en dan is het tijd voor het leukste stuk; de plaatjes!
Je klikt op Verkennen, typt 'paarden' in en klikt op 'afbeeldingen'. Nadat jullie op aandringen van je dochter al die leuke plaatjes hebben bekeken, klik je op een afbeelding en op 'invoegen' en staat de afbeelding in het Document.
Je hoeft dus geen nieuw tabblad meer te openen, geen afbeelding op te slaan en dan in te voegen. Deze stappen worden nu versneld.

Google Spreadsheets
Werk je met Google Spreadsheets, dan zul je de Verkennen functie ook wel kunnen waarderen. Hier kun je data markeren, op Verkennen klikken en daar bekijken welke van de opties voor jou handig is.
Wil je bijvoorbeeld een diagram maken van jouw data? Dan kun je dat op deze manier snel toevoegen.

Google Presentaties
In Google Presentaties biedt de functie je een snelle toegang tot het kiezen van een thema of kun je weer informatie of afbeeldingen van het internet of vanuit jouw Google Drive toevoegen.

Probeer hem eens uit
Weer zo'n handige functie van Google, die je sneller laat werken en waardoor je minder hoeft te navigeren tussen tabbladen. Wij raden je aan er eens naar te kijken, want het kan voor jou echt een handige toevoeging zijn!