Hoe gaat het in zijn werk
De korte versie: Wij zorgen dat het gewoon werkt voor je.
De lange versie? Wij zorgen ervoor dat deze Google Dienst aan je bestaande Workspace domein geactiveerd wordt.
Hierna kan je per medewerker Voice activeren en een telefoonnummer toekennen. Hiervoor moet wel jouw Google Domein onder ons reseller paneel hangen.
Je collega of medewerker ontvangt een mail met instructies over Google Voice en geeft je links om (als je wilt) bijpassende apps te downloaden voor het gebruik voor op je telefoon. Dit kan uiteraard op alle soorten smart-phones.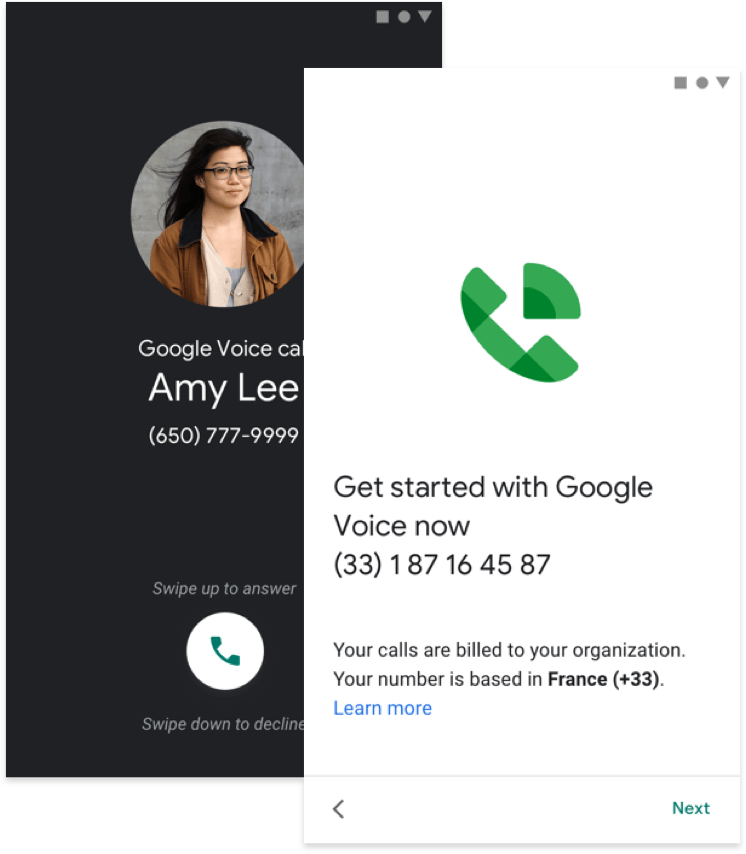 Ook belangrijk om te weten
Nomadische nummers, zoals 088 / 085 kunnen op dit moment nog niet gekoppeld worden. Standaard netnummers zoals 010, 020, etc is geen probleem.
Kenmerken van Google Voice
Alle versies van Google Voice zijn voorzien van de volgende functies

Voicemail transcription
Je ontvangt een voicemail in de mail, met de optie beluisteren of lezen

Google Calendar / Meet integratie
Je kan Voice koppelen met je Agenda en met Google Meet

Meerdere apparaten
Je kan Google Voice gebruiken via al je smart-apparaten en de webapp (voice.google.com)
Ben je nieuwsgierig?
Willen jullie overstappen naar een innoverende en tijdbesparende manier van werken en zijn jullie klaar voor Google Voice?
Neem dan contact met ons op en dan gaan we jullie hierbij helpen.