Digitaal samenwerken met Google Docs is geweldig, maar hoe doe je dat als je met iemand samen wilt werken die niet op Google Docs zit? Het geheim zit 'm in een vinkje…
Vinkje
De rol van het vinkje is ongekend binnen de moderne technologie. Hardware doet het vandaag de dag eigenlijk altijd wel. Als er iets niet werkt dan is het tegenwoordig meestal een vinkje. Je moet alleen weten waar dat vinkje zit. Ik praat je graag even bij. Ieder Google Doc-document heeft een eigen unieke link. Dat is de regel die in je adresbalk van je browser zit als je in het document zit. Met de blauwe knop rechts bovenin kun je eenvoudig het document delen met een andere Google-gebruiker. Dat kan een Google Workspace-gebruiker zijn maar ook een Gmail-gebruiker.
Linksharing
Maar hoe doe je het nu als de ander geen Google-account heeft, of deze wel heeft maar niet hiervoor wilt gebruiken? Dan maak je gebruik van de 'link-sharing'-functie. Als je die functie voor dat document aanzet, dan kan iedereen die de link heeft, die dus in je adresbalk staat, het document openen.
Hoe doe je dat?
Je gaat naar de blauwe knop rechtsboven in. En in de tweede sectie van de pop-up zie je 'Link ophalen' staan. Hier moet je zijn, dit is de functie voor het link-sharen.

Als eerste moet je deze functie aanzetten. Dat doe je door bij 'Link ophalen' te kiezen voor 'Iedereen met de link'.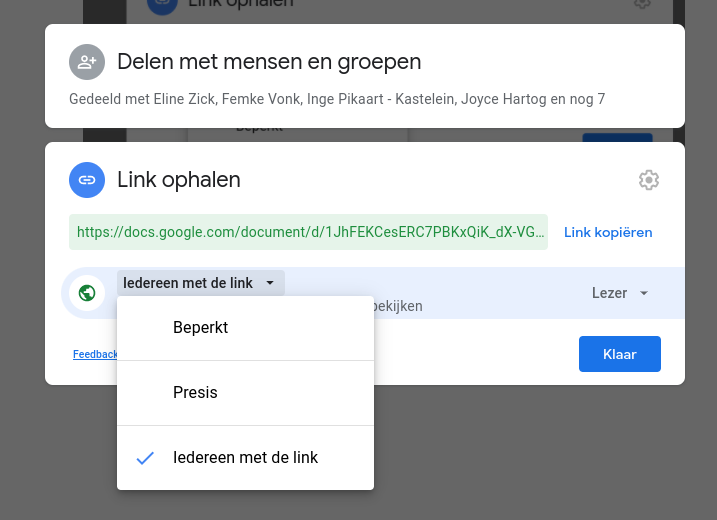 Vervolgens moet je aangeven welke rechten je wilt dat de ontvanger heeft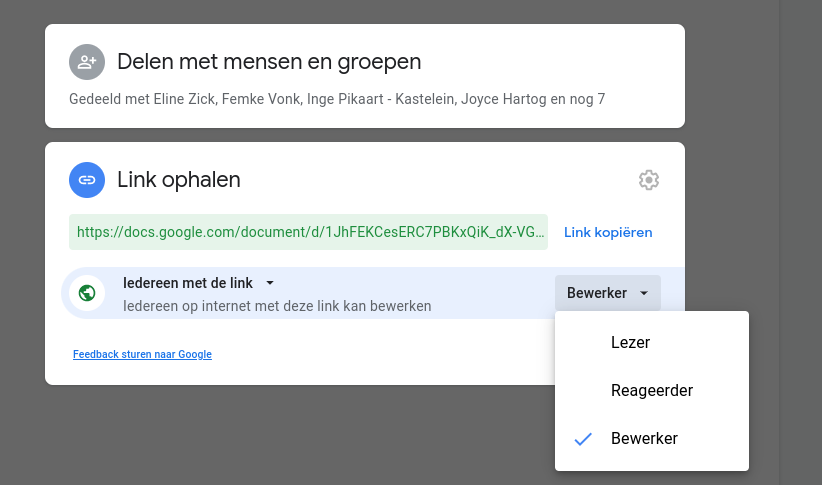 Vrij vertaald zijn de rechten:
Lezen – de 'PDF-modus' Read-only recht.
Reageren – Wel opmerkingen erbij zetten, maar niet de oorspronkelijke tekst aanpassen.
Bewerker – Samen aan het document werken
Gemak dient de mens
Zoals alles met Google zijn de wijzigingen hierin instant. Dus als je de rechten aanpast, dan is dat ook gelijk vanaf dat moment actief. Klaar ben je! Dit is het, dit is het grote geheim. Gemak dient de mens.
Postduif
De link kun je vervolgens naar iemand per chat, mail, postduif of met rooksignalen sturen en vanaf dat moment kunnen jullie samen (of met 3, 4, 5, 6, …. tot 200 personen) tegelijk in je document werken. Superhandig! Geen gedoe meer met heen-en-weer sturen van versies maar gewoon efficiënt en constructief samen documenten creëren.
Versie-intensieve documenten
Dit werkt dus speciaal heel erg goed met versie-intensieve documenten. Denk aan contracten, projectplannen, offertes en gezamenlijke spreadsheets. Deze kan je met Google Docs nu eenvoudig delen met je accountant, advocaat, adviseur en klant. Want zij hoeven niet op Google Workspace te zitten om samen met jou dat document perfect te maken.
Meer weten?
Wil je eens sparren, ben je benieuwd hoe de overstap van Microsoft naar Google werkt of heb je andere vragen? Neem gerust contact met ons op. We denken met liefde met je mee.