Open je agenda en bekijk je planning en afspraken. Er is nu voor de webversie van Google Agenda een verfrissende, nieuwe look en er zijn handige, nieuwe functies die jou helpen je tijd en taken goed te managen, zodat je meer gedaan krijgt en een goed overzicht hebt.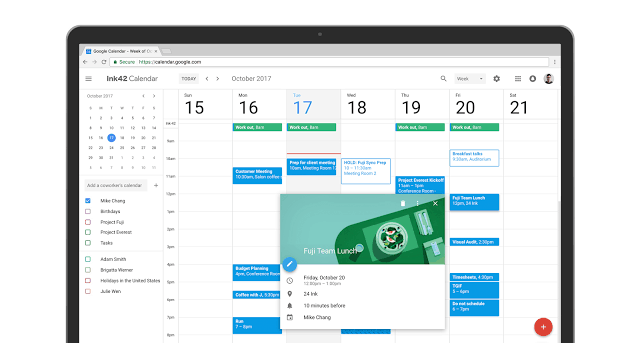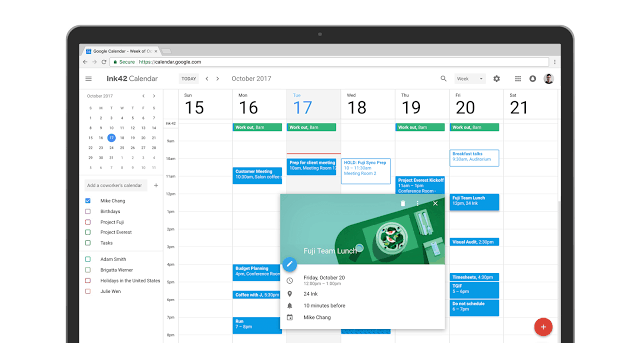 De mobiele app van Google Agenda bevat een hoop functies waar veel gebruikers erg blij mee zijn. Veel van deze functies zijn nu ook overgenomen naar de webversie. Zoals het moderne kleurenpalet, het design en een responsieve lay out die automatisch aan je beeldscherm aanpast, zodat je er fijn mee kunt werken zonder dat er delen buiten het scherm vallen. Voor Enterprise heeft Google wat extra functies toegevoegd zodat teams gemakkelijk afspraken kunnen voorbereiden en inplannen.
De nieuwe functies van Google Agenda
Doordat gebruikers continu feedback hebben gegeven aan Google hoe zij Agenda konden verbeteren, brengt Google nu nieuwe verbeteringen. De mobiele app was al flink verbeterd, maar ook de webversie heeft nu nieuwe mogelijkheden:
Vergaderruimte informatie. Wanneer je een ruimte wilt reserveren voor een vergadering, kun je details inzien van de vergaderruimte. G Suite administratoren kunnen nu gedetailleerde informatie over de ruimtes invoeren, zodat medewerkers weten waar de ruimte is, hoeveel personen er in de ruimte kunnen en of er geluid- en videomaterialen aanwezig zijn. Medewerkers kunnen nu heel gemakkelijk met de muis over de naam van de vergaderruimte gaan in Agenda wanneer ze een ruimte willen boeken en alle informatie is direct te lezen.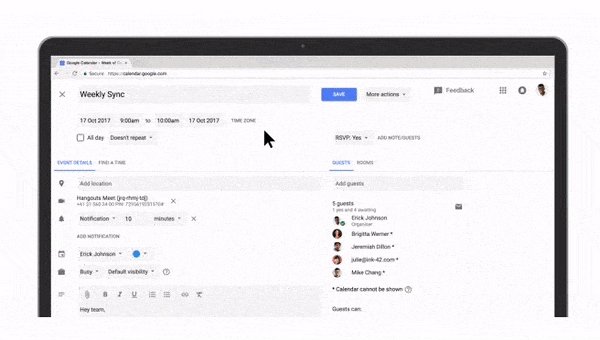 Voeg een opmaak en hyperlinks toe aan je Agenda uitnodiging. Voortaan kun je doorverwijzen naar een Spreadsheet, Document of Presentatie in de uitnodiging die je verstuurd met Agenda. Ontvangers kunnen deze link direct openen vanuit de 'Evenement details'. Dankzij deze functie kun je voortaan meer gedetailleerde afspraken maken met alle relevante informatie in één overzicht.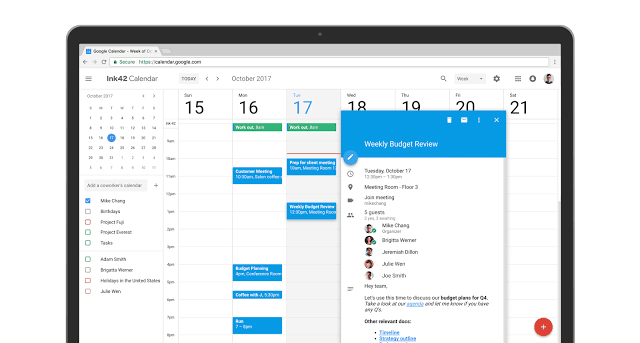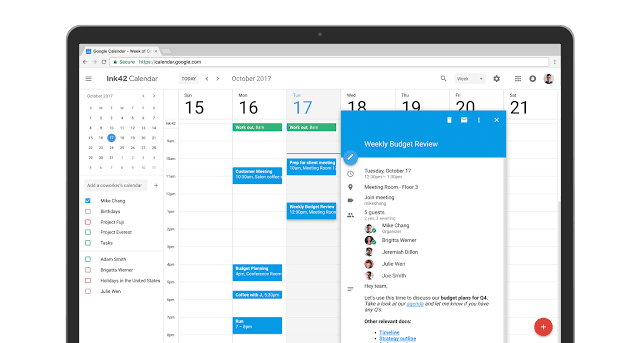 Dagoverzichten. Beheer je meerdere agenda's of heb je met enige regelmaat de agenda van een collega openstaan, dan is het Dagoverzicht wellicht erg handig voor je. In verschillende kolommen kun je agenda's openen waardoor je direct overzicht hebt op welke dag en tijdstip je een afspraak kunt inplannen.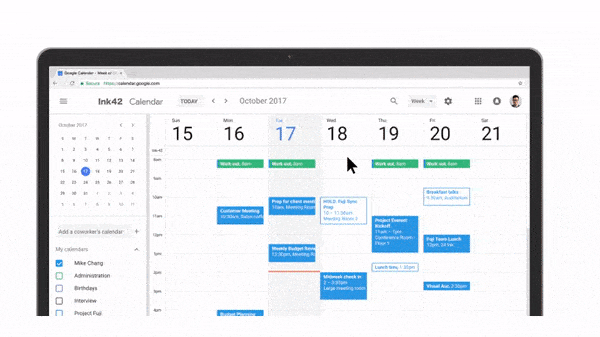 Naast deze nieuwe functies zijn er nog een aantal andere functies toegevoegd in Agenda. Niet alleen kun je meer informatie en details zien over een vergaderruimte, ditzelfde kun je nu ook inzien van de deelnemers. Heb je per ongeluk een uitnodiging verwijderd? Dan kun je voortaan in een plek deze verwijderde items inzien en eventueel herstellen. En als laatste zijn de weergaven 'Dag', 'Week' en 'Maand' nu beter toegankelijk en leesbaar voor web gebruikers. Wil je meer details over deze functies, dan heeft Google hier meer informatie voor je.
Vragen?
Op 14 november 2017 wordt de nieuwe versie uitgerold bij een deel van de klanten en op 28 november 2017 zal de nieuwe versie van Agenda ook voor de rest van de klanten beschikbaar zijn. Wil jij nu al gebruik maken van de nieuwe Agenda? Neem dan contact op en dan maken we dat voor je in orde. Mocht je verder nog vragen hebben over G Suite of over deze update, dan kun je ze altijd aan ons stellen. Bel, mail of chat met ons. We helpen je graag verder!