Er zijn veel verschillende apps beschikbaar om notities in te maken. Zo heb je bijvoorbeeld Evernote en de notitiefuntie die automatisch op je mobiel staat. Google doet ook mee in de wereld van notitie apps, dat doet zij met Google Keep. Een ontzettende handige app om aantekeningen of lijstjes in te maken die gekoppeld is aan jouw Google account. Maak je op je smartphone nieuwe notities aan, dan zijn deze ook direct beschikbaar op de webversie.
De nieuwe update van Google voor deze maand, is de integratie tussen Google Keep en Docs. Dankzij deze update kun je notities in Keep nu direct gebruiken in jouw documenten. Gewoon om het lekker effectief te houden.
Notities in Google Keep slepen naar Docs
Nu dat Google Keep officieel een onderdeel is van G Suite, heeft Google actie ondernomen om ervoor te zorgen dat ook deze dienst goed integreert met de andere apps binnen G Suite. Dankzij deze integratie wordt verwacht dat Keep meer gebruikt zal worden om tussendoor gedachten en ideeën op te schrijven, om ze later uit te kunnen werken.
Werk je op de desktop versie van Google Docs en wil je notities die je hebt aangemaakt in Keep, toevoegen in jouw document? Dan navigeer je in de menubalk naar Extra > Notities uit Keep. Aan de rechterkant van je scherm verschijnen dan jouw notities. Het enige wat je dan hoeft te doen, is de notitie in je document slepen. En klaar is kees, de notitie is toegevoegd.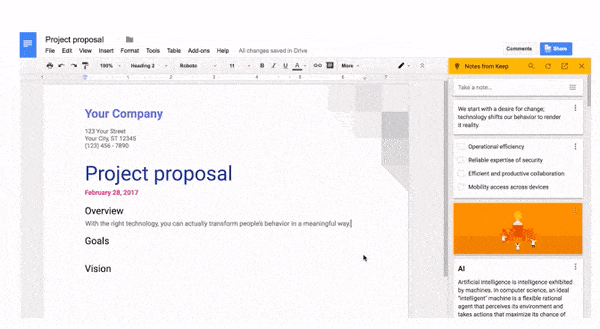 Maar, je kunt ook geselecteerde tekst uit Docs exporteren naar een notitie in Keep. Dit doe je door de tekst te selecteren > rechtermuisknop > Opslaan in Keep-notitieblok. De notitie verschijnt dat direct in je scherm rechts, maar ook in de mobiele app. Handig als je een leuk idee hebt maar niet in je huidige document wilt gebruiken.
Vragen?
Dankzij deze nieuwe update van Google zullen veel mensen een hoop tijd gaan besparen. Wij zijn er hier in ieder geval erg blij mee! Heb je nog vragen over deze nieuwe update of vragen over G Suite, neem dan gerust contact met ons op. Wij zijn er om jou te helpen en dat doen wij dan ook graag.