Google Keep.
Noteer alles wat je te
binnen schiet
'Dat onthoud ik wel…'
Een idee tussendoor, een notitie voor werk, een leuk cadeau idee, een boodschap. Er kan van alles overal te binnen schieten. En de grootste leugen die we onszelf vaak vertellen: 'Dat onthoud ik wel'.
Helaas blijkt vaak achteraf dat we het toch iets minder goed onthouden hebben.. Met Google Keep helpen we onszelf alles goed te onthouden en voorkomen we dat we dingen vergeten.
Google Keep heeft een gratis app voor op de telefoon of tablet (Android en iOS) en ook op de computer is de webversie heel fijn in gebruik. Alles synchroniseert feilloos met elkaar waardoor alle notities altijd beschikbaar zijn.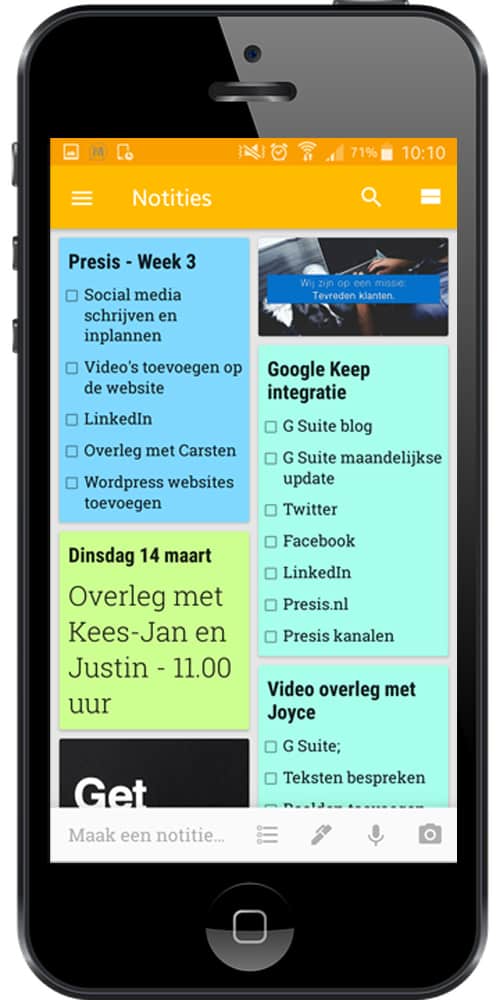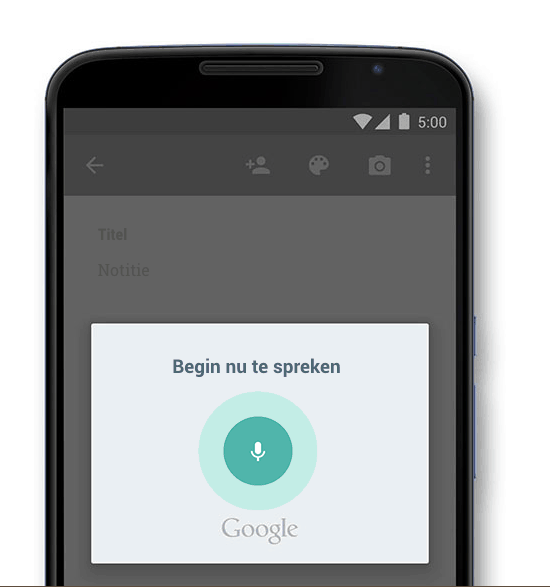 Geen zin om te typen?
Geen zin om de notitie te typen? Dan kan deze ook ingesproken worden. Deze opnamefunctie van Google is goed ontwikkeld, dus wat er gezegd wordt, komt er ook te staan. Geen gekke Starbucks creaties.
Herinnering instellen
Een zeer fijne functie; de mogelijkheid om aan een notitie een herinnering toe te voegen. Op werk heb je bedacht dat wanneer je thuis bent je nog even je broer moet bellen om wat dingen te regelen voor het weekend. Hoe vaak komt het wel niet voor dat je dit vergeet of er pas later weer aan denkt? Onhandig.
Maak hier een notitie van in Google Keep en voeg er een herinnering aan toe, dan kun je kiezen uit twee opties. Optie 1 is een tijd. Weet je zeker dat je om 17.30 uur binnen stapt? Dan stel je een tijd in voor de herinnering. Of kan het zijn dat je toch nog even snel naar de supermarkt bent gegaan en de melding dan weg klikt?
Dan is de tweede optie misschien handiger; hier voeg je een locatie toe. Wanneer je thuis binnenstapt komt de herinnering tevoorschijn en kun je er gelijk mee aan de slag.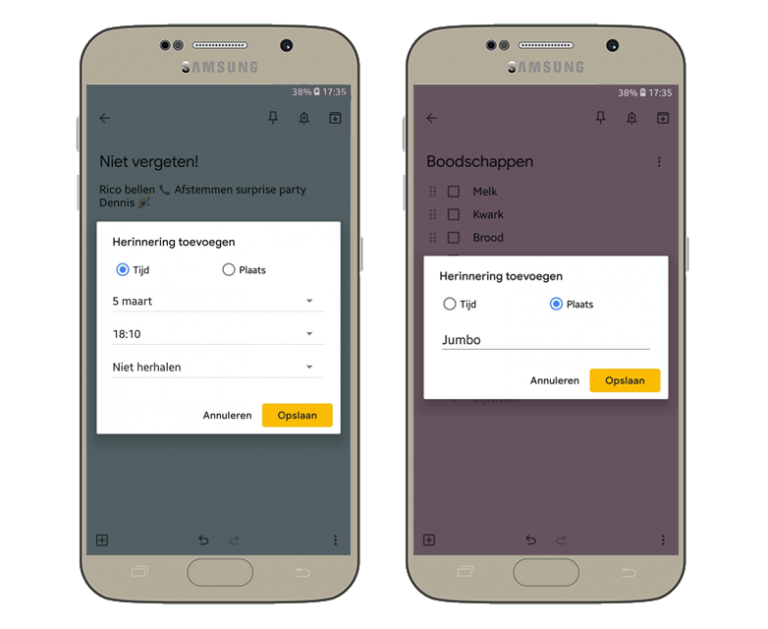 Notities delen
Komt er een avondje of weekendje met vrienden aan en hebben jullie samen een lijst opgesteld van de dingen die nog gedaan of gehaald moeten worden? Dan kan deze lijst in Google Keep gedeeld worden en zien jullie welke taken of dingen er afgevinkt zijn en welke er nog gedaan moeten worden. Handig om zo met elkaar het lijntje kort te houden.
Gericht zoeken
Ben je een veelvuldig gebruiker van Google Keep en heb je aardig wat notities? Dan ben je vast erg blij met het feit dat Google de beste is in zoeken. Met hun krachtige zoekfilters kan er gefilterd worden op kleuren, audionotities, gedeelde notities, etc. en zijn notities zo gevonden, zonder veel te hoeven scrollen en scannen.
Google keep helpt jou alles goed te onthouden en ordenen. Google heeft ervoor gezorgd dat de app heel intuïtief werkt en slimme opties heeft om ervoor te zorgen dat je het ook daadwerkelijk gebruikt. Werk je nog niet met Google Keep? Probeer het dan eens een tijdje, je zult niet teleurgesteld zijn!
Afbeeldingen, foto's en tekeningen toevoegen
Ook afbeeldingen kunnen toegevoegd worden in Google Keep. Een foto of tekening maken vanuit Keep is geen probleem voor deze slimme app.
Nog een leuk extraatje; bevat een afbeelding en wil je die tekst in de afbeelding graag getypt hebben? Dan hoeft dit niet meer overgetypt te worden. Google Keep kan de tekst uit deze afbeelding filteren en getypt neerzetten als de afbeelding goed genoeg is.
Om dit te doen upload je een afbeelding of maak je in een notitie een foto. Zodra deze ingeladen is klik je erop en klik je rechtsboven op de drie puntjes. Hier kies je voor 'Afbeeldingstekst ophalen'.
Zoals je ziet wordt de tekst 1 op 1 overgenomen, inclusief hoofd- en kleine letters.
Verbinden, creëren, opslaan.
Werken met de kracht en intelligentie van Google. Alles wat jullie nodig hebben om te kunnen werken, compleet in één pakket in de cloud.