Google Docs.
Samenwerken was
nog nooit zo makkelijk
Google Documenten: efficiëntie, snelheid en samenwerken
Google Documenten is de Google variant van Word. Alleen zou Google Google niet zijn als het draait om efficiëntie, snelheid en samenwerken.
Jullie kunnen hiermee met z'n allen tegelijk en op hetzelfde moment in hetzelfde document werken, zonder dat het traag wordt of misloopt.
Van ieder document bestaat er dus maar 1 versie: De huidige versie. Geen revisies meer, dat is verleden tijd. Met het changelog is de bijdrage per gebruiker makkelijk in te zien.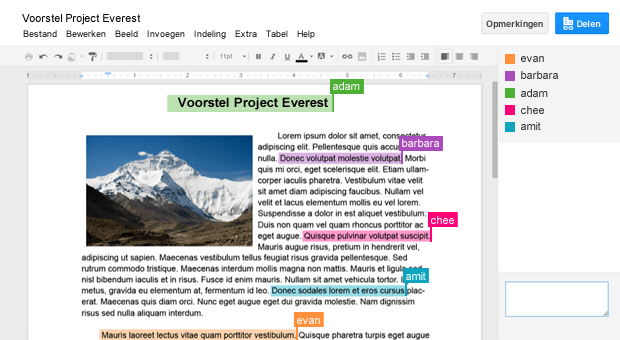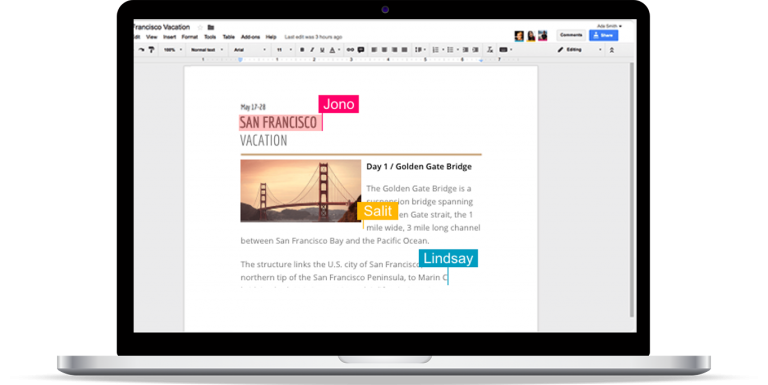 Docs denkt met jou mee
Jullie hoeven geen bijlagen meer heen en weer sturen, heel simpel sturen jullie een link naar het Document.
Het maakt niet uit of de ander wel of geen Google Account heeft, met Documenten kunnen jullie samenwerken, altijd en overal. Geen verschillende versies van hetzelfde document, maar één versie voor iedereen.
Een Word document naar iemand toesturen? Download het Document heel gemakkelijk als Word bestand en deel deze met wie jullie willen.
Word vergelijken met Documenten
Tussen Microsoft Word en Google Documenten zitten wel wat verschillen, maar het is geen wereld van verschil. Google Documenten heeft een modernere uitstraling, Google houdt haar producten altijd zo rustig mogelijk zodat jullie niet afgeleid raken van alle mogelijkheden, maar goed gefocust kunnen werken.
Oordeel zelf maar:
Opmaak mogelijkheden
Met de slimme bewerk- en opmaaktools maken jullie documenten levendiger en aantrekkelijker. Teksten krijgen een vormgeving naar jullie wens met de honderden lettertypen. Afbeeldingen en tekeningen zijn zo toegevoegd zodat jullie Document het beste van het beste bevat.
Nooit meer op 'opslaan' klikken
Google snapt dat jullie gemaakte content niet kwijt willen raken, daarom worden alle wijzigingen automatisch opgeslagen. Nooit meer zijn jullie content kwijt.
Verbinden, creëren, opslaan.
Werken met de kracht en intelligentie van Google. Alles wat jullie nodig hebben om te kunnen werken, compleet in één pakket in de cloud.