Niet iedereen kent de kracht
Microsoft Office wordt nog altijd door veel mensen en bedrijven gebruikt. Het kan dus wel eens voorkomen dat je een Microsoft bestand toegestuurd krijgt. Nog niet iedereen kent de kracht en het gemak van G Suite zullen we maar zeggen 😉
Microsoft Office bestanden bewerken
Voortaan kun je Microsoft Office bestanden bewerken, opmerkingen plaatsen en erin samenwerken met behulp van G Suite.
Deze nieuwe update brengt de voordelen van samenwerken uit G Suite naar Office bestanden. Workflows worden gestroomlijnd doordat het niet meer nodig is om bestandstypen te converteren.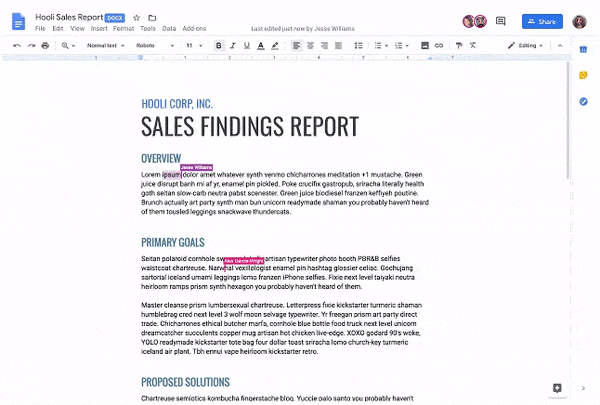 De update biedt iedereen de voordelen van G Suite.
Met deze update kunnen G Suite gebruikers eenvoudig Microsoft Office bestanden openen en bewerken die zijn gedeeld door klanten, partners of andere teams. Het kan zijn dat een deel van het team werkt met G Suite en het andere deel met Office. In deze gevallen zorgt dit voor een naadloze samenwerking omdat er voortaan geen rekening meer gehouden hoeft te worden bestandsformaten.
Hoe begin je?
Beheerders:
Als jullie de Office compatibiliteitsapp in Chrome gebruiken kunnen jullie problemen ondervinden met deze functie. Raadpleeg hier voor meer informatie over het uitschakelen van deze app voor jullie domein of om gebruikers deze te laten verwijderen.
Gebruikers:
Dubbelklik in Google Drive op het Office bestand. Hiermee wordt een voorbeeld van het bestand geopend.
Klik bovenaan op Openen in Google Documenten, Spreadsheets of Presentaties.
Hier kun je de versiegeschiedenis bewerken, delen, bekijken, in realtime samenwerken met anderen en meer.
Alle wijzigingen die je aanbrengt worden opgeslagen in het originele Office bestand.

Is het Word, Excel of PowerPoint document ouder dan Office 2007, dan worden deze bestanden opgeslagen naar een nieuwere indeling bij het bewerken.