Presis en onbeperkte vakantiedagen
Bij Presis heeft iedereen onbeperkte vakantiedagen. In dit blog vertel ik waarom wij dit hebben, hoe het werkt en waarom het voor ons goed werkt.
Het klinkt voor veel mensen als muziek in de oren: een werkgever die je onbeperkte vakantiedagen geeft! Maar waarschijnlijk zul je ook begrijpen dat er een catch aan zit.
De catch van onbeperkte vakantiedagen
Het moet wel mogelijk zijn. Anders gezegd, als de bedrijfscontinuïteit in gevaar komt, wordt er de juiste verantwoordelijkheid van je verwacht. Dus misschien is het beter om te zeggen: Je hebt een onbeperkt aantal vakantiedagen, mits de situatie, de continuïteit en je werkzaamheden dat toelaten.
Mits de bedrijfscontinuïteit dat toestaat
En dan wordt het voor een aantal mensen al wat lastiger; want hoe schat je dat dan in? Bij Presis werken we een beetje in een aquarium: Iedereen kan bij alle informatie. Iedereen weet wat de financiële situatie van het bedrijf is, welke financiële bijdrage hij of zij levert en iedereen weet wat het gevolg is als hij of zij op vakantie is. Hierdoor kunnen wij voor onszelf een goede inschatting maken. Is het wel verstandig dat je in een mindere omzet maand op vakantie gaat? Of midden in dat grote project waarmee je bezig bent? Dat is de eerste vraag die je jezelf moet stellen en moet verantwoorden naar je collega's en klanten toe.
Loopt alles waarvoor je verantwoordelijk bent door als je op vakantie gaat?
Wij hebben geen functies, wij hebben verantwoordelijkheden. Iedereen is voor een deel van Presis verantwoordelijk. Zo is Daimy verantwoordelijk voor de marketing van Presis en Nanda Urenoverzicht. Dus voordat zij weggaat, zet ze eerst voldoende Social Media berichten en campagnes klaar en ze heeft een collega bijgepraat om de dingen over te nemen die niet te automatiseren zijn. Als onze webdeveloper Carsten op vakantie gaat, stelt hij zelf de belangrijkste klanten waarvoor hij verantwoordelijk is op de hoogte en zorgt dat de collega die zijn rug dekt bijgepraat is. Iedereen zorgt er zelf voor dat het mogelijk is om op vakantie te gaan.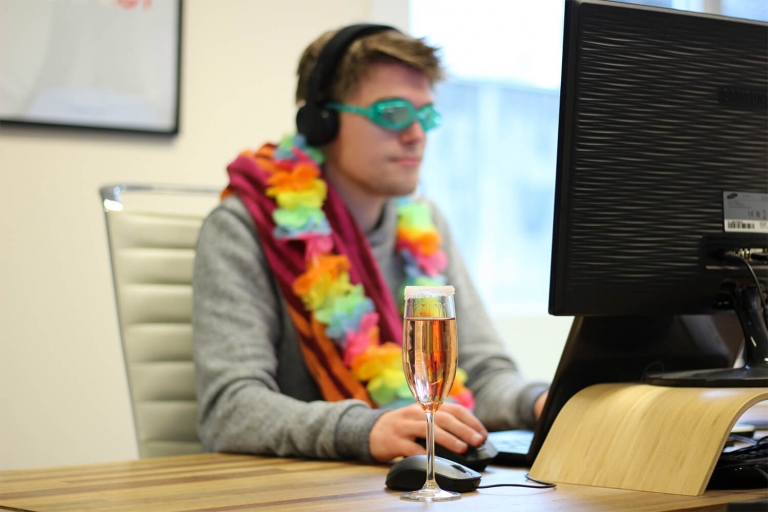 De juiste arbeidsethos
Om de goede keuzes te maken is discipline belangrijk. Als het fout gaat met "Het Nieuwe Werken", gaat het meestal fout op dit onderwerp. Mensen krijgen de vrijheid, maar kunnen er niet mee omgaan. Ze missen de juiste arbeidsethos en maken misbruik van de situatie. Je hoort wel eens verhalen van mensen die thuis werken en dan thuis alles gedaan hebben, behalve gewerkt. Of bedrijven waarbij de medewerkers dit interpreteren als een
perfecte gelegenheid om met andere collega's bij te kletsen. Dat zijn niet de medewerkers die met deze verantwoordelijkheid kunnen omgaan. Toegeven; wij hebben collega's bij Presis gehad met deze instelling. En nee, die werken hier niet meer. Als je niet deze werkdiscipline hebt, dan werkt deze vrijheid en "Het Nieuwe Werken" niet voor je.
Controle? Nee, inzicht en kansen
Dan de vraag die jij je nu waarschijnlijk afstelt: Hoe weten we dat iedereen zijn verantwoordelijkheid pakt? Iedereen bij Presis houdt zijn of haar uren bij in Nanda. Dat is niet alleen om de facturabele uren bij te houden, maar ook om inzicht te krijgen in waar we als bedrijf onze tijd aan besteden. Zo registreren we onze vakantie met het label 'Verlof', zodat iedereen in een dashboard kan zien hoeveel uur verlof iedereen dit jaar heeft opgenomen. Wij hebben als richtlijn 25 dagen per jaar, maar dat is meer om een richting te geven.
Het grappige is: dit overzicht is niet om te zien hoeveel iemand heeft opgenomen, maar in ons geval, hoe weinig iemand heeft opgenomen. Er zijn collega's waarbij we soms in het oor moeten fluisteren dat een weekje vrij best goed is voor een mens.
Voordelen van onbeperkte vakantiedagen
Nog een voordeel van onbeperkte vakantiedagen: het scheelt administratie, goedkeuringsprocessen, gedoe, beheer en administratieve verrekeningen aan het einde van het jaar. Alleen al daarom is het een hele efficiënte manier van werken. En de nadelen? Zoals ik al schreef, bij medewerkers zonder een juiste arbeidsethos gaat dit niet werken.
Is het geschikt voor iedereen en ieder bedrijf? Nee. Maar is het mogelijk? Ja, zeker wel. Het is wel praktisch als iedereen het ermee eens is. We zijn gelukkig niet in de situatie gekomen dat een aantal medewerkers wel en een aantal medewerkers niet op deze manier wilde werken. Maar anders had ik dat ook ingericht, iets meer werk maar niet onmogelijk.
Wij hebben het gewoon bespreekbaar gemaakt met iedereen en de voor- en nadelen besproken en afgewogen. Het komt neer op vertrouwen, verantwoordelijkheid, transparantie en de juiste instelling. En laten dit nu eigenschappen zijn die iedereen bij Presis bezit.