Een team dat zelden compleet is, maar toch altijd op de hoogte van elkaars werk.
Hoe doen we dat?
Voor teams, groot of klein, is het belangrijk om op de hoogte te zijn van elkaars werk en om in verbinding te staan met ieder teamlid. Omdat wij geen traditioneel team zijn die altijd allemaal op kantoor zijn, moeten we hier creatief mee omgaan. En wij hebben daar een goede manier voor gevonden.
Waarom zijn wij geen traditioneel team?
Wij zijn eigenlijk ook geen traditioneel bedrijf. Wij werken niet standaard van negen tot vijf, maar wij werken wanneer het voor ons het beste werkt. Soms is dat wel van negen tot vijf en soms is dat pas na 8 uur 's avonds. Wij hebben de vrijheid om onze eigen agenda's in te plannen en hebben onbeperkte vrije dagen. En daarnaast wij werken niet allemaal op kantoor.
Waar werken we dan wel?
Wij werken waar het uitkomt. Dat is de korte versie. De uitgebreide versie is als volgt; Soms hebben wij taken die veel focus vergen. Dan is het fijner om je werk thuis te doen, waar je geen collega's om je heen hebt die je kunnen afleiden of dingen aan je kunnen vragen. Gewoon in je eigen ruimte, mobiel uit, chat weg, afleidingen minimaliseren en dan gas geven!
Ik heb hier eens een bericht over geschreven, hoe het flexibele werken eruit ziet en wat de haken en ogen zijn ervan. Hier lees je mijn persoonlijke ervaring.
Antwerpen.. Afrika.. Schotland
Zo hebben we Myra die in Antwerpen woont, niet bepaald om de hoek. Pim is gek op reizen en doet dit samen met zijn vriendin bijna het hele jaar door. Zo trekken ze een half jaar met de camper door Europa of moet hij tijdens een meeting afkappen omdat er een olifant voorbij komt lopen (dan zit hij ineens weer in Afrika). En zo is ook Justin met regelmaat te vinden in Schotland.
Wij zijn zelden allemaal tegelijkertijd op kantoor. Het komt ongeveer 2 keer per jaar voor dat we wel allemaal samen op 1 locatie zijn. En toch missen wij niet dat teamgevoel en zijn we goed op de hoogte van elkaars werk.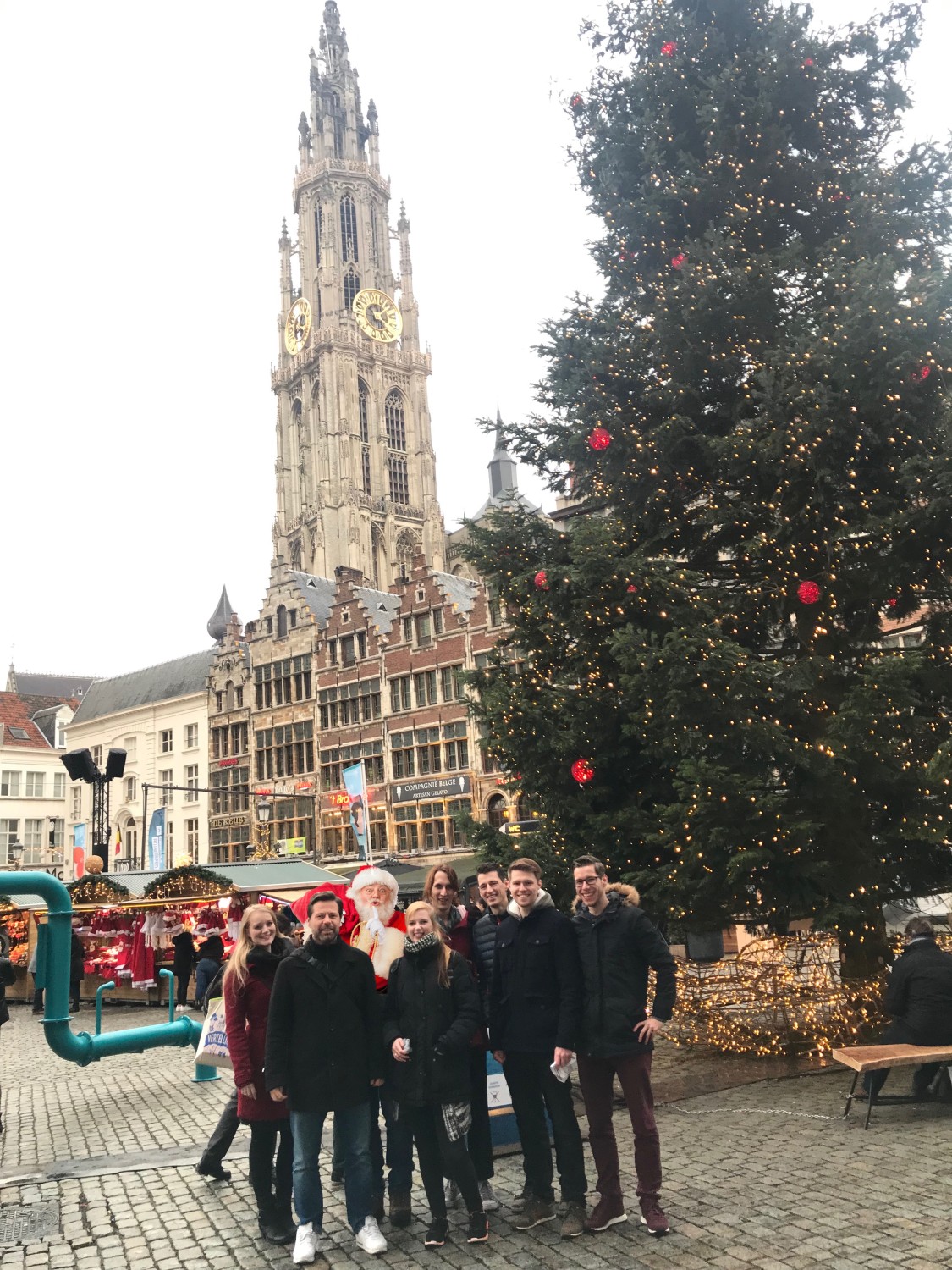 Hoe blijven we dan zo goed in contact met elkaar?
Wij hebben altijd het gevoel van verbondenheid met elkaar. Eén van de manieren waarop we dat bereiken is met de Presis Monday Meeting; de PMM.
Iedere maandagochtend komen we samen, fysiek of online, en zorgen dat we zo op de hoogte zijn van elkaars werk en agenda. Tijdens de PMM heeft iedereen een paar minuten om de collega's bij te praten over;
Waar ben je komende week mee bezig?
Heb je ergens hulp bij nodig?
Zijn er nog punten van aandacht?
De PMM mag niet langer dan 30 minuten duren en meestal zijn we in 20 min klaar. Precies genoeg zodat dat iedereen weer scherp de week kan beginnen.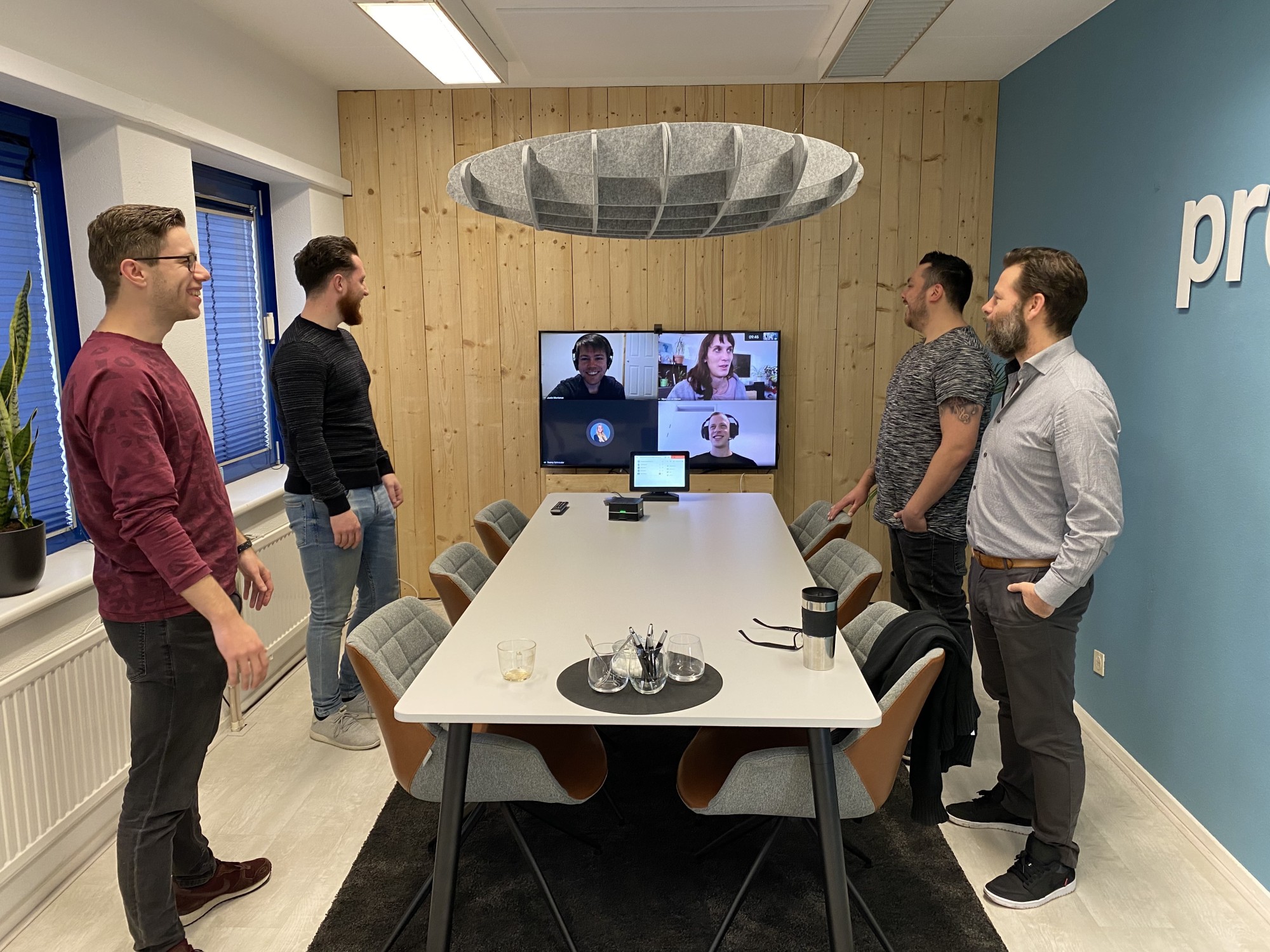 Kruisverbanden zien
Als je van je collega hoort dat hij met een bepaald project bezig is en jij hebt daar een goede aanvulling op, dan kun je dit later nog even samen opnemen. Maar ook als je hoort dat iemand ergens hulp bij nodig heeft en jij hebt hier meer ervaring mee, dan kun je hulp aanbieden.
Als niet iedereen fysiek aanwezig is, hoe doen we zo'n meeting dan?
Dat hebben we heel simpel en heel goed opgelost. Collega's die niet fysiek aanwezig kunnen zijn doen mee via Hangouts Meet. Dat is de video meeting oplossing van Google. Zo kun je elkaar goed zien en horen en heb je een gevoel van échte betrokkenheid, ook al zit je in Antwerpen of Afrika.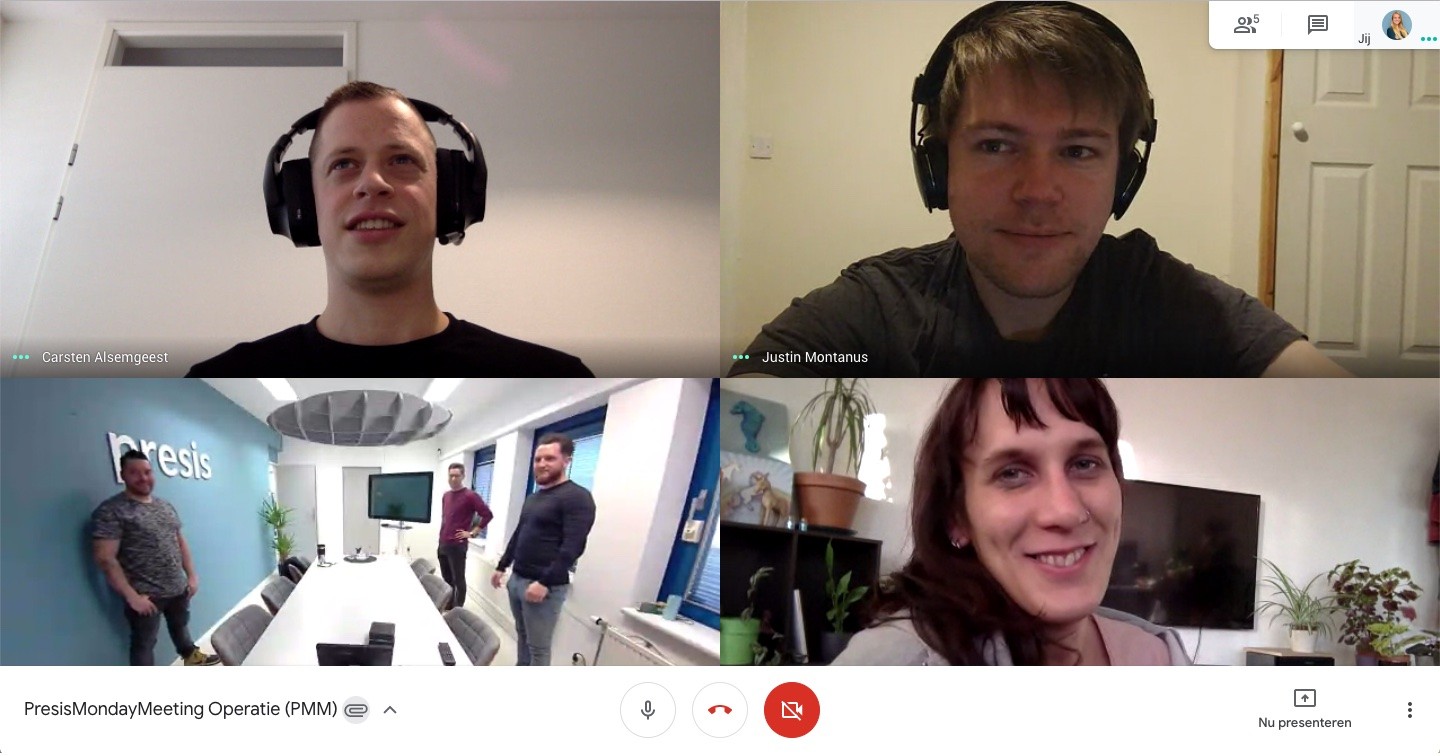 Video meetings, dat betekent dus dat jij iedereen op kantoor kan zien en andere collega's die ook meedoen via Hangouts Meet. En dat betekent ook dat de andere jou kunnen zien via de camera op jouw laptop. Je bent niet fysiek samen in dezelfde ruimte, maar het voelt wel zo.
Over die camera's gesproken.. daar hebben we soms een kleine kink in de kabel haha. Over het algemeen genomen werken er niet veel ochtendparels bij Presis maar vooral nachtuilen. Die camera's blijven dus soms wel eens uit. Soms als in; vrij vaak. Vooral bij de dames. Die zijn dan nog niet klaar voor de maandagochtend, laten we het zo maar zeggen.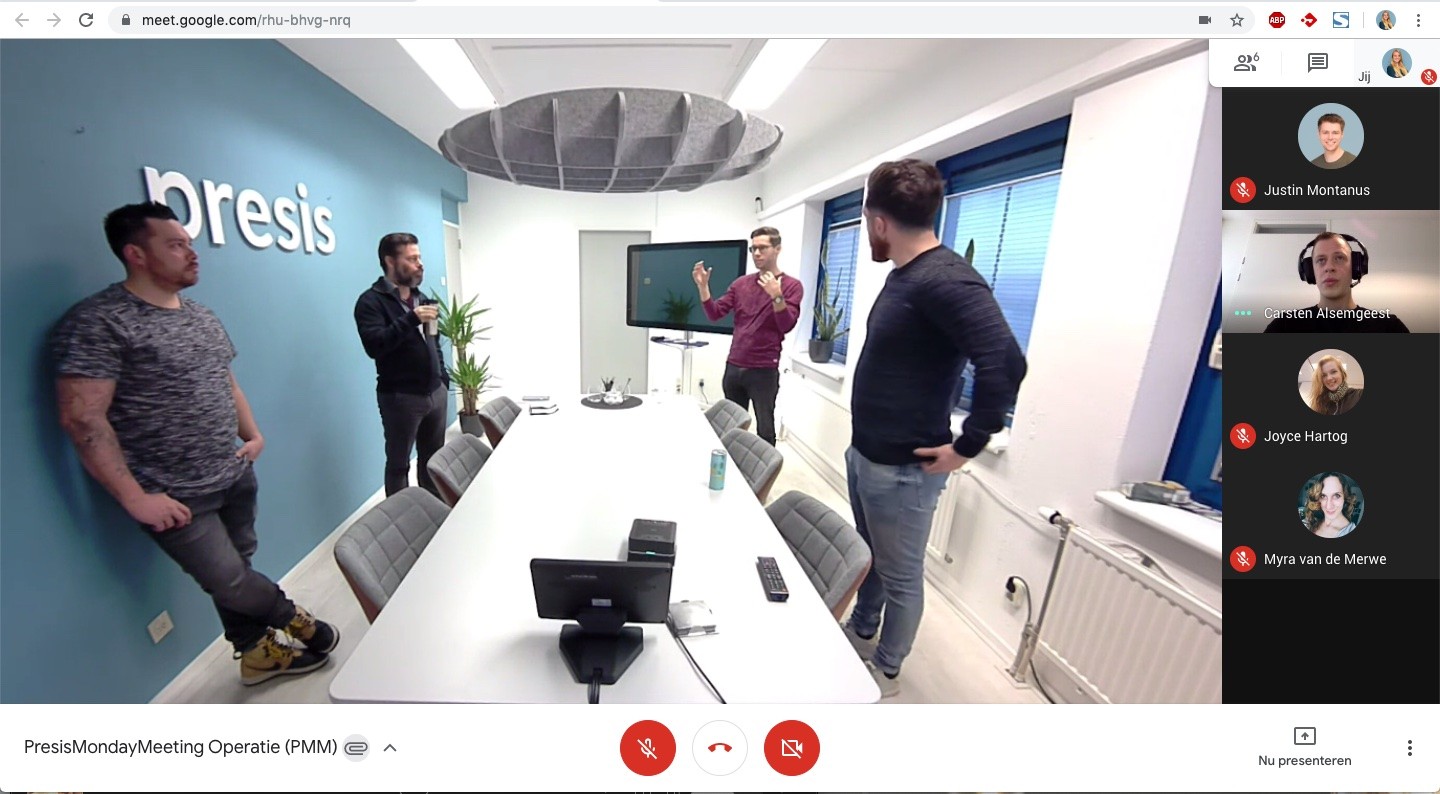 Stand-up meeting
Een onderwerp van discussie is nog wel eens of we wel of niet de PMM staand houden. Ja, dat lees je goed: staand vergaderen. Onderzoeken hebben destijds uitgewezen dat staand vergaderen zorgt voor een actievere mentaliteit waardoor de betrokkenheid vergroot. Maar het is en blijft de maandagochtend.. Die zijn gewoon wat zwaarder. Als iemand stiekem toch probeert te zitten, is waakhond Carsten bijzonder alert en weet iedereen -onder enige dwang- toch weer te laten staan.
Goed de tijd voor elkaar nemen
De PMM helpt ons om zo iedere week even een moment te hebben met elkaar. Geen afleidingen, geen telefoon. Even aandachtig luisteren en daardoor goed op de hoogte zijn van wat er speelt.
Hoe pakken jullie het aan om goed op de hoogte te zijn van elkaars werk? Wij leren graag bij en we geloven dat er ook andere manieren zijn om dit te bereiken. Mocht je dus ervaringen hebben, we horen deze graag aan om onze betrokkenheid onderling aan te scherpen!