Google Docs is gemaakt om samen te werken. Dat is vanaf dag 1 het uitgangspunt geweest van Google. Onafhankelijk van je kennisniveau of vanaf welk apparaat je werkt, eenvoudig samenwerken is het doel. Hoe dat werkt leggen we je uit in deze blog.
Om te kunnen samenwerken moet je documenten met elkaar willen delen. Gelukkig heeft Google dat heel eenvoudig gemaakt.
Eén document delen
Dat werkt als volgt. In het document wat je wilt delen staat een blauwe knop: 'Delen' en daarmee deel je een document. Je geeft het e-mailadres op van het Google-account met wie je wilt delen en je stelt de rechten in voor die persoon. Zo kun je verschillende deelrechten voor verschillende personen instellen.

Veel documenten delen
Als je meerdere documenten wilt delen dan is het praktischer om ze niet stuk voor stuk te delen, maar om een hele map in één keer te delen. Dit doe je op dezelfde manier. Je gaat als eerste naar de map die je wilt delen.
Rechtermuisknop > Delen (in het menu)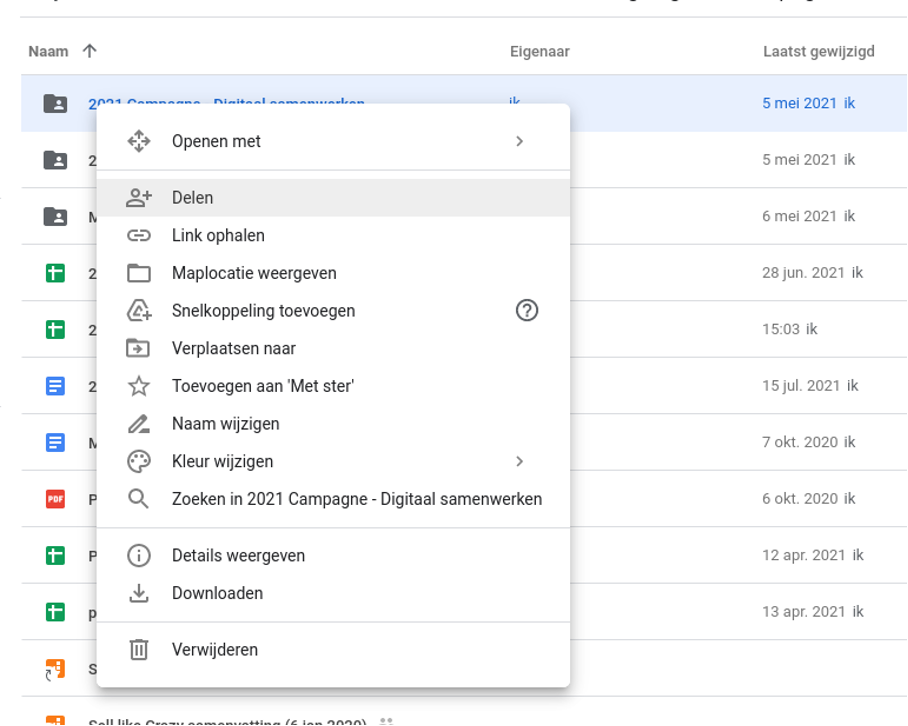 En dan is gaat de rest op dezelfde manier als het delen met een los bestand. Het voordeel van deze manier is dat gelijk alle bestanden in die map met de ontvanger gedeeld worden. Wanneer je op een later moment een bestand in die gedeelde map plaatst, dan is dat bestand 'automatisch' gedeeld met iedereen met wie die map gedeeld is.
Net zoals een los bestand heeft een map ook een eigen unieke link. Nadat je de rechten naar wens hebt ingesteld kun je bijvoorbeeld vanaf dat moment de link sturen naar de gewenste persoon.
En wat is nu het grote voordeel?
Omdat je samen LETTERLIJK in hetzelfde document werkt, is er nooit meer verwarring over versies en verschillen in documenten. Op deze manier bespaar je met zijn allen ontzettend veel tijd, maar ook ergernis. Je werkt immers gezamenlijk aan het eindresultaat. Met Google Docs hoef je dus niet meer met de techniek, versies, updates en andere dingen bezig te zijn, je kan gewoon gelijk en tegelijk aan het werk.
Geen gedoe
Op deze manier heeft Google het samenwerken in bestanden en mappen heel erg eenvoudig gemaakt. Geen gedoe met versiebeheer, geen discussies over wat nu werkelijk het juiste document is, niet nadenken over welk apparaat je moet gebruiken. Heerlijk toch?
Meer weten?
Benieuwd naar hoe dat er in de praktijk uit kan zien? Check dan deze blog! Wil je eens sparren, ben je benieuwd hoe de overstap van Microsoft naar Google werkt of heb je andere vragen? Neem gerust contact met ons op. We denken met liefde met je mee.