Het gevoel 'dat je wat mist'
Sociale verbinding houden met collega's op afstand. Dat is niet eenvoudig. Als je elkaar alleen maar via een videoverbinding kan zien dan heb je toch het gevoel 'dat je wat mist'. Dat klopt ook wel, het sociale aspect is het lastigst in te vullen als je op afstand werkt. Je bent niet de enige, het is voor iedereen lastig.
Onze 4 handige tips
Het sociale aspect in een bedrijfscultuur is gebaseerd op 'onderling verbonden' zijn met elkaar. Als je met z'n allen op kantoor bent gaat dat op een natuurlijke manier. Je ziet, je hoort en je spreekt elkaar bij het koffieapparaat en bij de lunch. Daarmee stel je jezelf en elkaar in de gelegenheid om een band op te bouwen.
Als jullie remote werken dan zijn deze fysieke mogelijkheden er eenvoudigweg niet en dat zorgt soms voor een gemis aan onderlinge verbinding.
Wij hebben hier soms ook mee te maken en hebben wat tips hoe jullie kunnen voorkomen dat dit gemis er is en hoe het contact optimaal gehouden wordt. Deze tips komen voort uit onze eigen ervaring en oplossing.
Tip 1: Start de week samen
"Alle neuzen dezelfde kant op" is een van de meest gebruikte uitspraken op het gebied van teamgevoel en samenwerken. Zoals dat voor projectgroepen en voetbalteams geldt, is dit statement ook voor organisaties van kracht. Zeker in kleine tot middelgrote bedrijven is het cruciaal om op dezelfde lijn te zitten.
Tip: Start de week samen door een week-start-meeting op een vast moment te houden. Bijvoorbeeld met een korte meeting van 30 minuten. Daarbij vertelt iedereen waar die mee bezig is. Hierdoor ben je van elkaar op de hoogte en creëert dit samenhang. Als iemand hulp nodig heeft dan is dit ook een uitstekend moment om dat te vragen of aan te bieden.

Tip 2: Plan een koffie uurtje in
Het hoeft natuurlijk niet altijd over het werk te gaan, even niet over het werk praten kan heel erg opluchten. Wanneer jullie op kantoor zijn is er altijd ruimte voor gesprekken over koetjes of kalfjes. Niet alleen tijdens de lunch, maar ook gewoon tussendoor. Dit is fijn om even als afleiding te hebben en de gedachten te laten ontspannen.
Daarom hebben wij op woensdagmiddag een vast koffie uurtje ingepland met één regel: Het mag niet over werk gaan. Dat blijkt soms knap lastig te zijn, maar het is erg fijn om even te ontspannen met elkaar. Bij Presis hebben we afgelopen week online pictionary gespeeld. Zeker niet verplicht, maar wel aangeraden!
Tip 3: Voer je 1:1 gesprekken zo vaak als mogelijk met video
Als je elkaar ziet dan heb je toch een betere verbinding met iemand, dan wanneer je elkaar niet ziet en alleen spreekt via de telefoon. Spreek onderling af dat waar mogelijk jullie 1:1 gesprekken met video houden en jullie zullen merken dat het de onderlinge band versterkt.
Wijzelf houden deze videogesprekken met Google Meet. Een betrouwbare videomeeting tool die voldoet aan alle veiligheidseisen.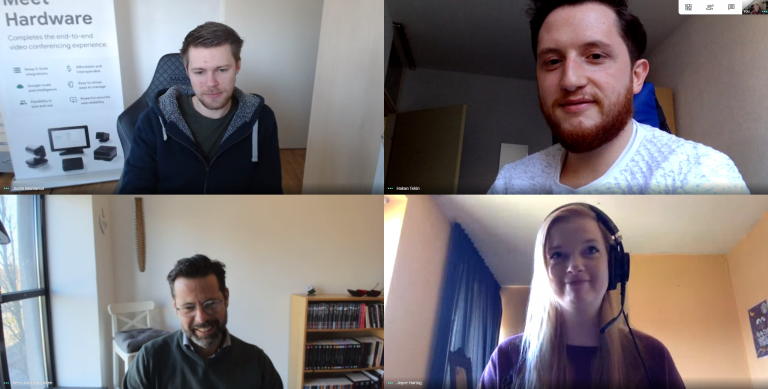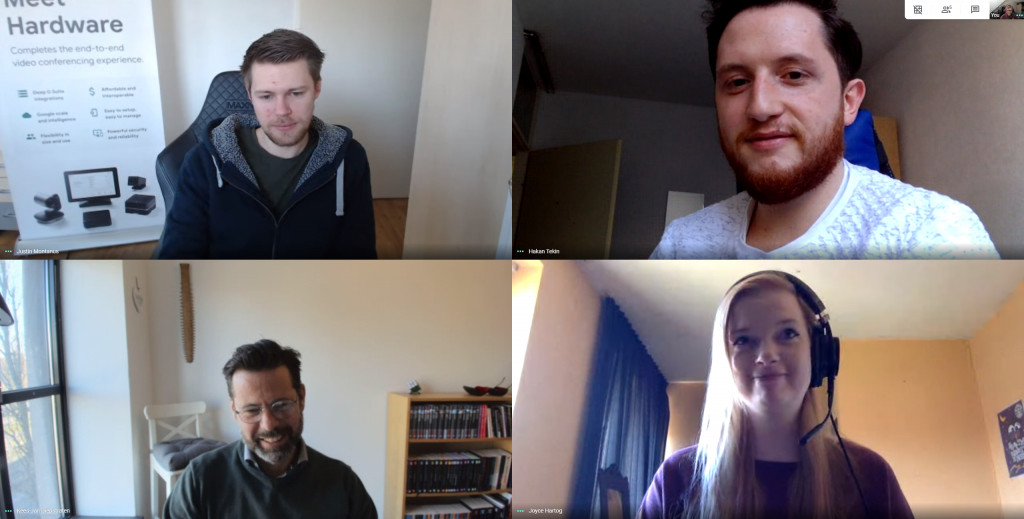 Google Meet is ook heel geschikt voor groepsgesprekken
Tip 4: Chat onderling
Gebruik aanvullend op de video ook een zakelijke chat. Voorbeelden zijn Slack of natuurlijk Google Chat. Hiermee kunnen jullie heel geordend in channels per onderwerp, ook wel bekend als 'groepsgesprekken', iedereen gelijk op de hoogte brengen over hegeen wat er speelt. Daarmee versterken jullie ook het onderlinge gevoel en saamhorigheid.
De communicatie gaat zo gestroomlijnd en blijft helder. Wijzelf gebruiken Google Chat en hier hebben wij per onderwerp verschillende channels ingericht. Een voor Koffiepraat, voor de gezellige gesprekken. Voor bijvoorbeeld Marketing en voor Development. Zo blijft de communicatie kort en snel maar wel duidelijk en helder.

Afsluitend
Zoals het er nu uitziet zitten wij met z'n allen nog wel even in deze situatie. Hopelijk helpen deze tips om de band met collega's sterk te houden en het werken fijn te laten verlopen.
Werk ze deze week!
Team Thuiswerkers