Nu we steeds meer thuiswerken groeit de behoefte om met elkaar in contact te blijven. Inmiddels is videobellen bij de meeste mensen wel ingeburgerd. Een aanvulling hierop is zakelijk chatten.
Privé chat
De voordelen van chatten zijn duidelijk. Het is laagdrempelig, mensen reageren sneller en het is gemakkelijk in het gebruik.
Daarbij willen mensen wel een scheidslijn aanbrengen tussen zakelijke en privé chat. Niet alleen uit veiligheidsoverwegingen, maar ook om voor jezelf het verschil duidelijk te houden en niet altijd bezig te zijn met werk, maar het na een werkdag ook gewoon af te kunnen sluiten.
Zakelijk chatten
Het zakelijk chatten wijkt een beetje af van privé chatten. Bij privé chatten is het meer op 1:1 chats gericht en een aantal groepen. Bij zakelijk chatten is het precies omgekeerd en kenmerkt het chatten zich met voornamelijk groepen (channels) en een aantal 1:1 chats.
Met de zakelijke chat applicaties is het daarnaast mogelijk om meldingen uit een ander systeem in de chat te laten verschijnen. Als er bijvoorbeeld een nieuwe lead in het CRM gezet wordt, dat die dan zichtbaar wordt in de #sales groep zodat iedereen die dat moet weten gelijk op de hoogte is.
Slack versus Google Chat
Slack is bij veel bedrijven bekend en in gebruik. Bij bedrijven die gebruik maken van Slack zie je dat de interne e-mail belasting duidelijk lager is. Slack is tot 10.000 berichten gratis en daarna kost slack €10 per user per maand.
Google Chat is duidelijk geïnspireerd op Slack en heeft ook grote overeenkomsten. Je kunt ook andere apps via de web-hook eraan koppelen en steeds meer apps hebben ook een Google Chat Bot die je automatisch meld als er een nieuw support ticket op je naam gezet wordt bijvoorbeeld.
Google Chat is onderdeel van Google Workspace en kost dus niets extra. Een ander voordeel is dat als je zoekt in je mail naar een bepaald onderwerp, dat deze zoekopdracht ook scant door jouw chats. Zo kun je sneller het onderwerp of gesprek vinden wat je zoekt.
Proberen?
Wil je weten hoe het eruit ziet en ontdekken of het wat voor jouw organisatie is? Ga naar:
Klik hier: meer informatie over Google Chat
Zo ontdek je zelf hoe het werkt en of het wat voor jullie is.
Tips voor Google Chat
Om je op weg te helpen een goede structuur te maken en Google Chat effectief in te zetten, delen we wat van onze tips.
Tip 1: Maak een channels per onderwerp
Google Chat noemt het Ruimten. Maar om het herkenbaar te houden noemen wij het even 'channels'. Wij hebben bijvoorbeeld channels voor:
Algemeen
Sales
Boekhouding
Team Marketing
Maar ook voor projectnaam1, projectnaam2, etc.

Tip 2: Vastzetten van Channels
Als je channels vastzet door een ster eraan toe te voegen, dan ziet het er helemaal hetzelfde uit als Slack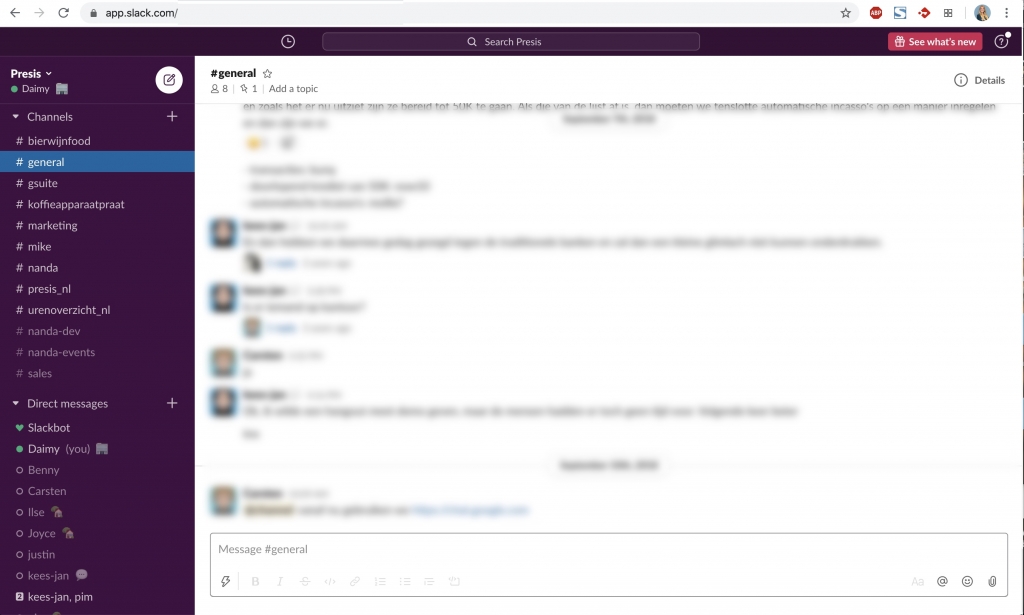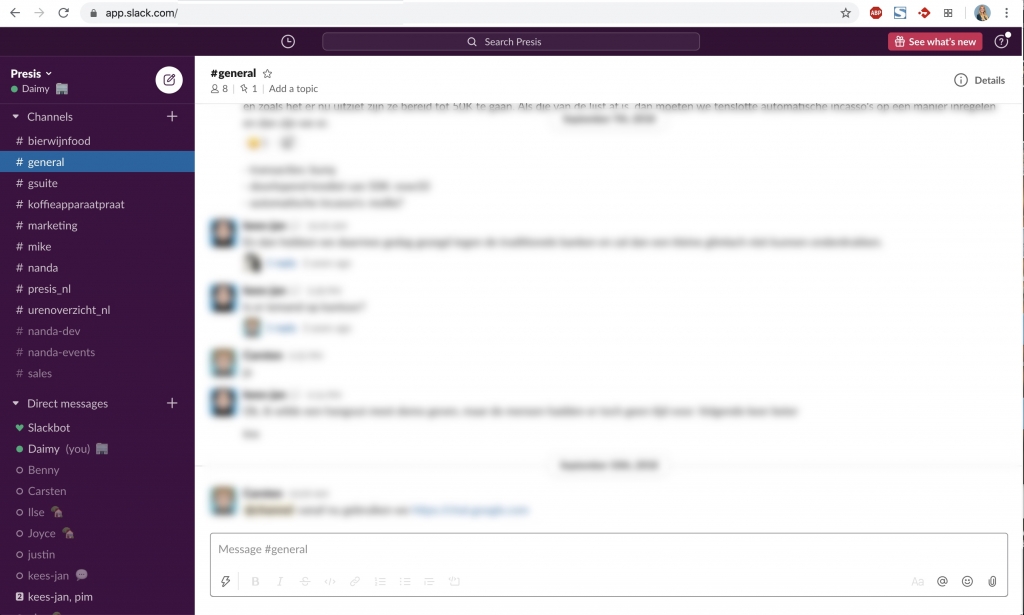 Tip 3: Maak een koffiehoek channel
Ook in een zakelijke chat kunnen er 'gezellige' gesprekken ontstaan. Een grapje delen, een leuke video of iets wat iemand heeft meegemaakt. Wat wij hebben gedaan om ook dit gestructureerd te houden, is een aparte channel genaamd 'Koffiepraat' toegevoegd. En deze wordt nog best vaak gebruikt, wat ook weer voor een beetje luchtigheid onder collega's zorgt. Zeker een aanrader dus!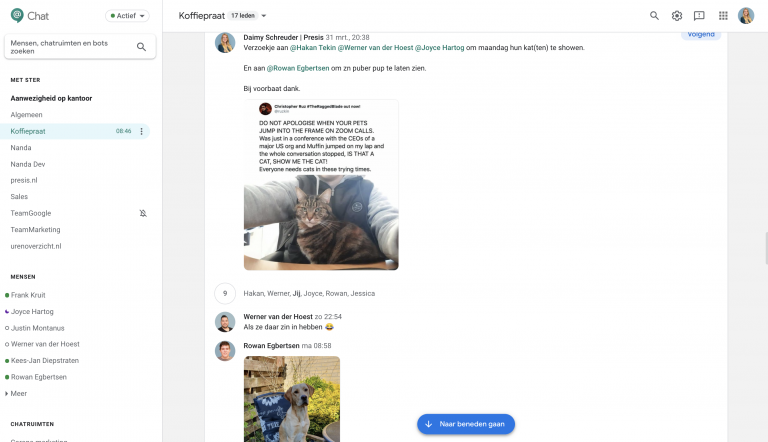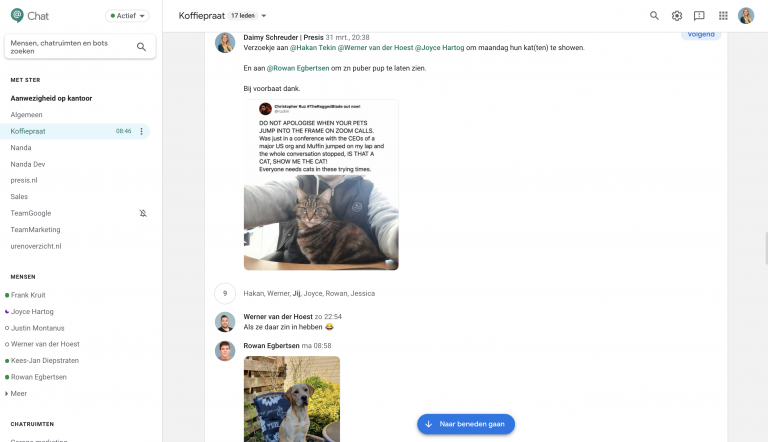 We hopen dat we je weer hiermee geholpen hebben en zo je leven een beetje gemakkelijker gemaakt.
Verbinden, creëren, opslaan.
Werken met de kracht en intelligentie van Google. Alles wat jullie nodig hebben om te kunnen werken, compleet in één pakket in de cloud.