Nu je expert bent in het zoeken in Gmail, is het tijd om eens naar Google Chat te kijken. Want mail is handig, maar chat is laagdrempelig, mensen reageren sneller en het is gemakkelijk in het gebruik. Maar ik durf te wedden dat je daar ook wel eens iets kwijt bent tussen alle koffiepraat waar mensen je mee lastig vallen? Of niet soms?
Overstappen van e-mail naar chat
Al eerder hebben we geschreven hoe je de e-maildruk  in je organisatie vermindert. Het geheim is geleidelijk overstappen van e-mail naar chat. Privé doe je dat immers ook, waarom zou je dezelfde stap dan ook niet zakelijk maken?
Nadelen WhatsApp-groepen opgelost met Google Chat-channels
Als je gebruik maakt van Google Workspace dan zit daar ook Google Chat  is. Daarmee heb je gelijk het privacyprobleem en andere praktische issues van Whatsapp opgelost.
Als je WhatsApp gebruikt, gebruik je ongetwijfeld ook WhatsApp-groepen. Het nadeel daarvan is dat het onoverzichtelijk kan worden. In Google Chat zitten ook groepen, maar die heten dan channels. Er zijn wat tips voor het gebruik van Google Chat-channels, die we hier met je delen.
Channels zijn er niet voor niets
Yes, je kunt alles op één hoop gooien, Google vindt het wel. Maar toch. Een echte pro maakt een channel aan per onderwerp.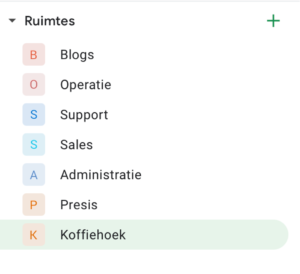 En vergeet áls-jé-bliéft het belangrijkste channel niet: Koffiepraat. Dat houdt de andere channels namelijk vrij van koffiepraat. Lekker profi. 😉
Afdelingschannels (= ruimten)
Je kunt om te beginnen per afdeling een channel maken. Die – voor de taalpuristen onder ons – ook wel bekend zijn als ruimten. Zo kun je een channel hebben voor administratie, voor sales, voor support en voor operatie.
Automatische channels
Je kunt ook meldingen uit een ander systeem automatisch als een channel in de chat laten verschijnen. Superhandig! Zo heb je alles bij elkaar en hoef je niet steeds van de ene tool naar de ander te switchen. Dat zorgt alleen maar voor afleiding.
Als er een nieuwe lead in je CRM-systeem gezet wordt, wordt die meteen zichtbaar in de #sales-groep.
Als er een nieuwe blogpost in de RSS-feed van de organisatie verschijnt, zie je die direct in het channel met blogs. Zo hoef je niet steeds naar de pagina toe om te checken of te wachten op de wekelijkse nieuwsbrief, maar word je direct geattendeerd dat er nieuws is. #handig
Als er een nieuwe meldingen is vanuit een monitoringsysteem, bijvoorbeeld dat er een schijf vol zit.
Vastzetten van Channels
Naast elk channel vind je de magische drie puntjes. Daarmee kun je ervoor kiezen om een melding te krijgen – of juist niet! – voor elk nieuw bericht dat binnen komt, maar je kunt op die manier ook je favoriete channels vastzetten. Zo verschijnen ze bovenaan. Lekker makkelijk.
Meer weten?
Wil je eens verder praten over de eindeloze mogelijkheden, ben je benieuwd hoe de overstap van Microsoft naar Google werkt of heb je andere vragen? Neem gerust contact met ons op. We denken met liefde met je mee.