Google G Suite is volledig ontworpen om online samenwerken te faciliteren. Om in een document samen te werken kun je rechts bovenin op de knop 'Delen' klikken.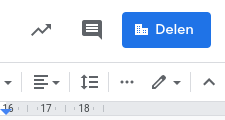 In het deel menu kan precies worden ingesteld met wie het document gedeeld mag worden en wat voor rechten die personen in het document krijgen. Dit menu is volledig geupdate. Hieronder wordt het verschil getoond. Links is de oude interface en rechts de geupdate versie.

Delen met mensen MET een Google Account
Als je je document wilt delen met mensen met een Google account (Gmail of G Suite, dat maakt niet uit) dan voeg je eenvoudigweg het e-mailadres toe. De beveiliging is geregeld doordat zowel jij als de ander van een Google Account gebruik maakt en de bestanden nooit buiten het domein van Google komen.
Extra opties: verschillende rechten per persoon en tijdelijke toegang
Door rechtsboven (nieuwe interface) op het tandwiel te klikken kun je geavanceerde instellingen aanzetten. Zo kun je kiezen of mensen het bestand mogen bewerken, suggesties maken of alleen bekijken. Verder kan je ook een tijdslimiet instellen op de toegankelijkheid van het bestand. Zo breekt de link automatisch na een gespecificeerde datum of tijd.
Delen met mensen ZONDER een Google Account
Wat erg handig is dat je kunt samenwerken met mensen zonder Google Account. Hoewel steeds meer mensen gebruik maken van het gemak van Google G Suite, kan het natuurlijk altijd voorkomen dat je je document wilt delen met iemand die geen Google account heeft. Dat is geen enkel probleem.
Hiervoor gebruik je de 'link-share' optie. Als je deze optie aanzet, dan kan iedereen met de link in het bestand. Voorbeeld van een link naar een document:
Dit document heeft Presis gemaakt en met iedereen gedeeld, zo kan er in real-time samengewerkt worden met honderden personen. In de nieuwe update is de 'link-share' optie een stuk duidelijker weergegeven, namelijk direct onder het deel menu.
Om een link openbaar te maken klik je op "Wijzigen" en vervolgens op "Iedereen met de link" (zie onderstaande afbeeldingen).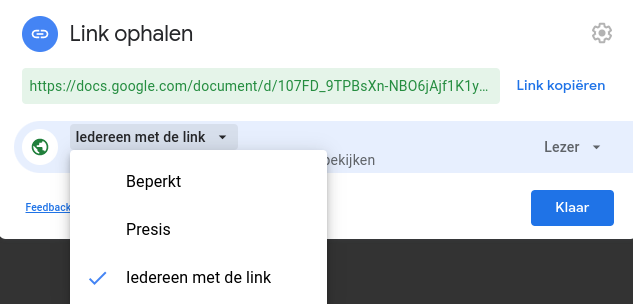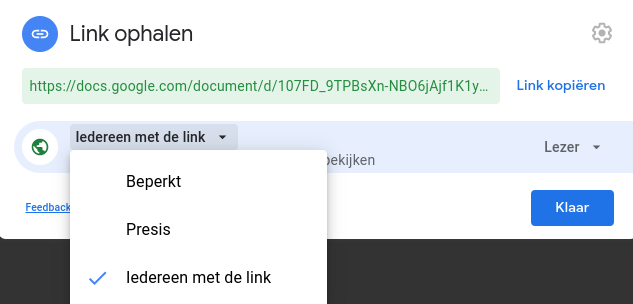 Stuur de link bijvoorbeeld in een email of chatbericht. Met de Google Docs app kunnen mensen ook vanaf hun telefoon of tablet bij de bestanden. Zo kan er werkelijk overal samengewerkt worden.
Instellingen blijven veranderen
Zodra je een deel-instelling aanpast is die direct van kracht. Dit betekend ook dat er op ieder moment de veranderingen terug kan draaien. Ook als je een tijdslimiet op een deelbare link hebt gezet kan die toegang vroegtijdig afgebroken worden. Zo behoud je altijd de controle.
Geldt dit voor alle typen Google bestanden?
Ja, dit kun je op dezelfde manier gebruiken voor alle Google documenten.
Google Documenten
Google Spreadsheets
Google Presentaties
Google Jamboard
Google Draw (leuk om galgje met je collega's mee te doen)
Google Formulieren
etc.
Doe samen je ding en creëer iets moois. Gemakkelijker dan ooit tevoren.