Boost voor de snelheid
Google heeft weer wat fijne nieuwe features voor Google Spreadsheets deze maand. Dankzij deze nieuwe features wordt de snelheid waarmee je wilt werken weer geboost. Grote selecties, sneller invoegen, beter opmaken. Daar worden we allemaal blij van.
Nieuw in Spreadsheets
Uitlijnen
Multi selectie in Spreadsheets
Verbeterde invoeging van draaitabellen
Kopieer en plak afbeeldingen
Up to date grafieken
Uitlijnen
Wil je in Spreadsheets objecten netjes uitlijnen, vergroten, verkleinen of positioneren? Dan is deze nieuwe feature heel handig voor je. Zo helpen ze je met de juiste, perfecte uitlijning of het goed tot verhouding staan.
Multi selectie in Spreadsheets
Wanneer je meerdere grafieken, tekeningen en afbeeldingen wilt selecteren om bulksgewijs te verplaatsen, van grootte te veranderen of te verwijderen, dan houdt je Control of Shift ingedrukt en selecteer je de objecten die je wilt aanpassen.
Verbeterde draaitabel invoeging
Voeg je een nieuwe draaitabel toe, dan kun je deze in een nieuwe Spreadsheet of op een aangepaste locatie in bestaande Spreadsheet plaatsen.
Voor het maken van een nieuwe draaitabel ga je naar Gegevens > Draaitabel en selecteer je een gegevensbereik.
Selecteer "Nieuwe sheet" of "Bestaande sheet" in het dialoogvenster onder Invoegen aan en klik op Maken.

Kies je voor een bestaand Spreadsheet, dan moet je een specifieke cellocatie voor de draaitabel selecteren.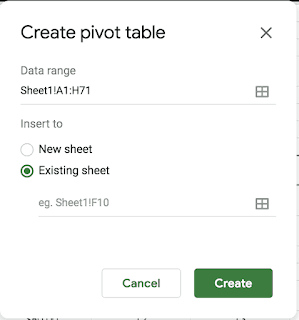 Heel makkelijk; kopieer en plak afbeeldingen
Google heeft het makkelijker gemaakt om afbeeldingen aan jouw Spreadsheet toe te voegen. Tot zo ver moest dit via Invoegen > afbeelding. Voor de snelle werkers onder ons een beetje omslachtig. En dat is nu heel fijn verbeterd! Je kunt nu afbeeldingen kopiëren en deze rechtstreeks in de sheet plakken. 🙏
Eerst kopieer je de afbeelding die je wilt, vervolgens klik je in jouw Spreadsheet op de rechtermuisknop en dan op plakken.
Jouw grafieken zijn altijd up to date
Wanneer je het handige Verkennen gebruikt om diagrammen te maken, worden de diagrammen vanuit de vraag-en-antwoord-functie ondersteund door formules. Deze diagrammen worden automatisch bijgewerkt als de basis gegevens veranderen. Zo klopt de informatie altijd in iedere grafiek die je daarna maakt.
Voorbeeld; je gebruikt de informatie voor jouw diagram uit een ander Spreadsheet. Deze data pas je aan. Dan wil je wel dat jouw gemaakte diagram nog klopt. Maak je jouw diagram via de Verkennenfunctie, dan klopt jouw diagram altijd.