Jamboard apps voor iOS en Android
Google heeft de Jamboard apps voor iOS en Android opnieuw aangepakt. Hiermee verbeteren zij de bruikbaarheid, prestaties en betrouwbaarheid voor Jamboard gebruikers en laten je zo effectiever werken met de Jamboard apps.
Recentelijk heeft Google ook een herontwerp doorgevoerd voor de Jamboard hardware. Ook Jamboard web heeft een update gehad. En nu zijn de apps ook aangepakt. Dit alles samen zorgt ervoor dat je op ieder platform (hardware, web of apps) makkelijk kunt werken en er een eenheid is.
De wijzigingen en updates zorgen voor een consistente ervaring, waardoor bekende functionaliteiten van andere Google programma's (Google Documenten, Drive, etc) naar Jamboard worden gebracht. Ook zullen er functies verwijdert worden om zo de gebruikerservaring verder te stroomlijnen. We leggen het hieronder uit.
Consistent met andere G Suite programma's
Bekende functies van andere G Suite programma's kun je nu terugvinden in de Jamboard apps waardoor ze makkelijker te gebruiken zijn. Denk aan bewerkingen als;
Een ster toevoegen
Een kopie maken van een Jam
Een link naar een Jam kopiëren
Ook worden de standaard Link Sharing opties toegevoegd om het je zo nog makkelijker te maken.
Op het startscherm zie je een raster- en lijstweergave voor jouw Jams. Je kunt Jams bekijken als doorzoekbare mappen, zoals je ook gewend bent in Google Drive;
Recente Jams
Met mij gedeelde
Met ster
Verwijderde Jams
Hiermee wordt de kracht en bekendheid van G Suite doorgevoerd in de Jamboard apps.
Beter bewerken op mobiele apparaten en tablets
De volledige portret- en landschap ondersteuning voor apps zijn toegevoegd waardoor je beter kunt bewerken op mobiele apparaten en tablets.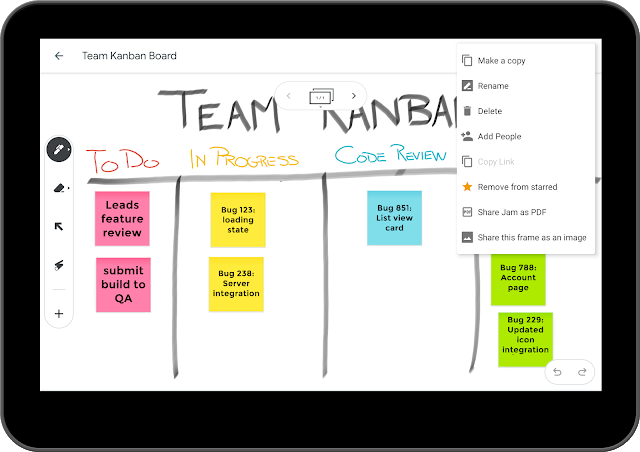 De werkbalk die je misschien gewend bent van de Jamboard hardware en web worden nu ook toegevoegd aan de mobiele apps. Ontbrekende tools zoals de select tool voor mobiel zijn nu toegevoegd. De tools voor het invoegen van afbeeldingen en het aansturen van bestanden zijn betrouwbaarder gemaakt.

Meedoen en openen
Tot slot zijn er verschillende verbeteringen aangebracht in de manier waarop;
Je lid wordt van Jams
Je opent op Jamboard
Deelt met mensen vanaf mobiele apparaten en tablets.
Je kunt nu Jams delen met de standaard G Suite deel methoden en je kunt een Jam openen op het Jamboard via Bluetooth.
Deze functies worden verwijderd:
Offline een Jam aanmaken. Google gaat zich eerst focussen op de offline mogelijkheden van andere G Suite programma's. Je kunt Jam nog wel offline bewerken wanneer je deze open hebt staat of als het er een is die je eerder hebt geopend.
Je kunt NFC niet meer gebruiken om een ​​Jam op Jamboard te openen of eraan deel te nemen. Daarvoor in de plaats gekomen is Bluetooth.
De Hangouts integratie op mobiel en tablet is verwijderd. Om samen te bewerken, deel je de Jam bestandskoppeling in Hangouts Chat of voeg je deze toe aan een Agenda item, waardoor alle deelnemers aan de vergadering toegang hebben tot de Jam.
Om een ​​Jam te presenteren, gebruik je de nieuwe mobiele functie voor het delen van schermen die beschikbaar is op iOS en binnenkort beschikbaar is voor Android.
De functies "Zoeken op internet" en "bijsnijden" zijn er ook uit. In plaats daarvan kun je de ingebouwde browser gebruiken om een ​​webpagina te vinden, de ingebouwde schermopname- en bijsnijd functionaliteit en de app galerij invoegen om bijgesneden afbeeldingen van webpagina's in te voegen.
De mogelijkheid om Jam bestandcodes op mobiel en tablet te maken wordt ook verwijderd. Daarvoor gebruik je nu de bekende functies van G Suite om met mensen te delen.