Rijen data doorzoeken in Spreadsheets kan soms wat veel werk zijn. Zeker wanneer je veel gegevens hebt verwerkt in een Sheet. Daarom heeft Google nu nieuwe features toegevoegd om het vinden van de inzichten die je zoekt, het visualiseren en delen van de data makkelijker te maken.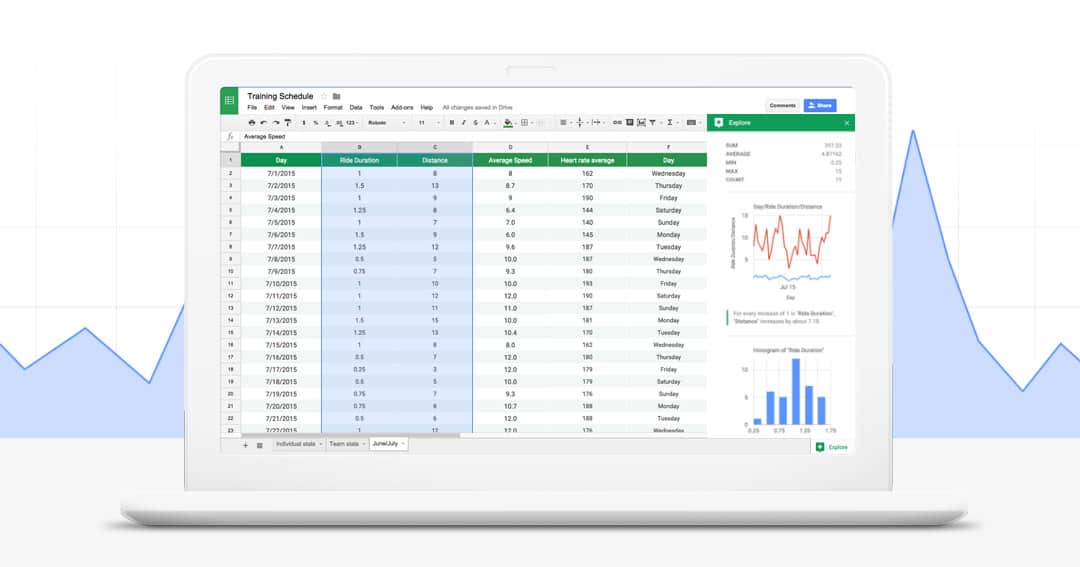 Vraag en gij zult vinden
Verkennen in Google Spreadsheets, die sterker gemaakt is met machine intelligentie, helpt je om direct het inzicht te krijgen in de data die je zoekt. En dat heel simpel door gewoon je vraag te stellen, niet in formules, maar gewoon in woorden. Je kunt letterlijk je vragen stellen en je ontvangt dan het antwoord. Bijvoorbeeld; "Wat zijn de gemiddelde verkoopcijfers op woensdag?". En Verkennen helpt jou met het vinden van dit antwoord.
Dezelfde slimme technologie wordt ook gebruikt in Spreadsheets om het visualiseren van data nog makkelijker te maken. Zie je de tabel niet die je zoekt? Vraag het. Je hoeft niet meer zelf handmatig de tabellen te maken, maar stelt Verkennen een vraag en laat die het verwerken in een tabel, bijvoorbeeld "Verkoopcijfers woensdag 6 september 2017". De tijd die je niet hoeft te investeren in het maken van tabellen kun je nu mooi inzetten voor het verwerken van de uitkomsten.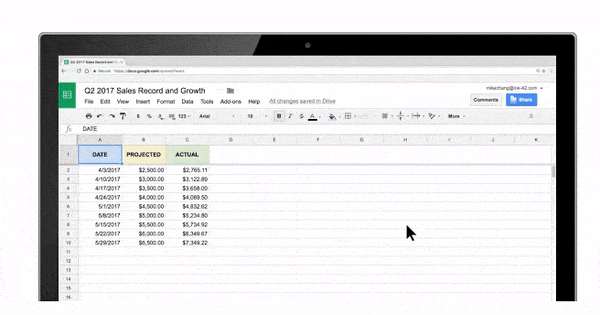 Direct je data synchroniseren
Het verwerken en up-to-date houden van data voor bijvoorbeeld een klantpresentatie kan flink wat tijd in beslag nemen. Met bovenstaande feature heeft Google dit proces al versneld voor je. Maar daar stop het niet. Zij hebben het nu ook makkelijker gemaakt om de tabellen te uploaden in Documenten of Presentaties.
Het up-to-date houden van tabellen in Documenten of Presentaties is heel gemakkelijk. Je kopieert en plakt de data van de tabellen in Spreadsheets naar Documenten of Presentaties en klikt op de "update" button om de data te synchroniseren.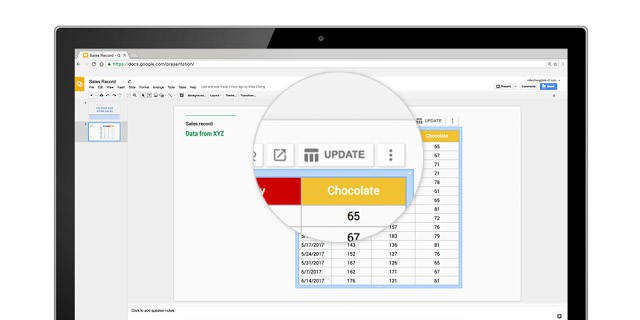 Belangrijke wijziging Spreadsheets diagram
Om de inspanningen te richten op verbeteringen van o.a. Sheets heeft Google besloten om een minder gebruikt diagram-type in Spreadsheets niet meer te ondersteunen; de bewegingsdiagram. Vanaf september 2017 zal het niet langer mogelijk zijn deze te bewerken. En vanaf december 2017 zullen alle bewegingsdiagrammen omgezet worden naar afbeeldingen. Ook zullen deze niet meer corresponderen met data veranderingen.