De handige functies in Google Documenten
Google Documenten heeft veel functies die ervoor zorgen dat je jouw bestanden makkelijk kunt beheren en opmaken. Maar veel van deze functies blijven onopgemerkt en dat vinden wij zonde. Want ze kunnen jouw leven een stuk makkelijker maken. Wij vinden het leuk jouw kennis te upgraden, daarom vertellen we je graag over deze handige functies van Google Documenten.
In totaal geven we je 10 tips die we over twee blogs verdelen. Hierbij het eerste deel dat jou helpt je documenten mooier op te maken. In het tweede deel geven we 5 tips om sneller te werken met Documenten.
1. Sjablonen
Waarom zou je iedere keer de moeite nemen om opnieuw je document op te maken als je ook een vooraf opgemaakt sjabloon kunt openen? Dat kan een offerte of een zakelijke brief in Google Documenten zijn, een presentatie in Google Presentatie of een formulier in Google Formulieren, voortaan hoef je maar één keer je bestand op te maken en deze sla je vervolgens op als sjabloon. Iedere keer als je dezelfde opmaak wilt gebruiken, open je het sjabloon en kun je direct aan het werk.
Geloof ons; het niet steeds opnieuw hoeven opmaken van je documenten scheelt je een hoop tijd.
Wanneer je een document opent ga je linksboven in naar de drie streepjes. Dit is de sjabloon galerij. Hier staan, wanneer je ze hebt aangemaakt, alle opgeslagen sjablonen. Ook kun je hier nieuwe sjablonen toevoegen.

2. Tekstopmaak opschonen
Mocht je ooit tekst hebben geplakt in een Google Document vanaf een website, mail of ander format, dan is het je vast opgevallen dat de tekst in een andere opmaak geplakt wordt. Vaak niet gewenst, want je wilt alles in dezelfde opmaak hebben. Hoe kun je gemakkelijk de geplakte content dezelfde opmaak geven als de rest van je document? Je selecteert de tekst, gaat in het menu naar 'Opmaak' → 'Opmaak wissen'. En tada; de tekst is nu in dezelfde opmaak als de rest van je document.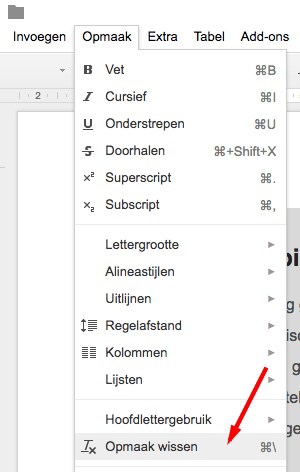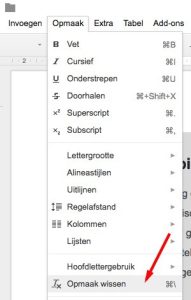 Tip:
Voor degenen onder ons die graag gebruik maken van sneltoetsen;
Mac: plak de tekst niet met Command + V maar met Command + Shift + V.
Windows: Niet plakken met enkel CTRL + V maar met CTRL + Shift + V.
3. Voettekst
In de voettekst kun je handige korte notities toevoegen, zoals titels, paginanummers en datums. Ze zijn niet lastig toe te voegen, maar toch weet niet iedereen hoe dit werkt. Er zijn twee manieren voor; de eerste manier is door in de menubalk naar 'Invoegen' → 'Voettekst' te gaan.
De tweede manier is door onderaan de bladzijde te klikken, dan verschijnt er een witruimte die door een stippellijn wordt onderscheiden van de rest van de bladzijde. Wil je de notitie opslaan, dan klik je heel simpel ergens in het document en automatische wordt jouw ingevoerde notitie opgeslagen.

4. Pratend typen
Soms is praten gewoon makkelijk dan typen. En sneller. Je hoeft in Google Documenten niet altijd je teksten te typen, je kunt deze ook pratend typen.
Ga in de menubalk naar 'Extra' → 'Spraakgestuurd typen' en klets lekker een eind weg. Ook kun je gemakkelijk leestekens invoegen in de teksten, zonder dat je hiervoor het toetsenbord hoeft aan te raken. Dan zeg je 'punt', 'komma', 'vraagteken' enzovoorts. Wil je een nieuwe alinea beginnen of verder op een volgende regel, dan zeg je 'nieuwe alinea' of 'nieuwe regel'.
Ben je meer van de shortcuts?
Mac: Cmd + Shift + S
Windows: Ctrl + Shift + S
5. Google Keep integratie
Veel van onze klanten maar ook wijzelf werken veel met Google Keep. Bijvoorbeeld voor het maken van aantekeningen, het opslaan van afbeeldingen of URL's. Een aantal van deze aantekeningen worden gemaakt om later uit te kunnen werken. Om dit proces te bespoedigen zodat jij snel je aantekeningen kunt uitwerken, kun je de notitie die je hebt gemaakt in Keep slepen naar Documenten. Hier laten we je zien hoe de Google Keep integratie met Documenten werkt.

Meer handige functies?
Met deze eerste 5 handige functies hopen we jouw Google Documenten kennis uitgebreid te hebben en jou te helpen om je documenten mooier te maken. De volgende 5 functies geven we volgende week, wil je dus meer handige tips, kom dan vooral nog even terug. In het volgende deel geven we 5 tips die jou helpen sneller en makkelijker te werken in Google Documenten.