Zijmenu in Gmail
In Gmail heb je aan de rechterkant een zijmenu. Hierin staan onder andere de knop van Google Agenda, Keep en Tasks. Deze knoppen zorgen ervoor dat je in Gmail kunt blijven, maar wel kunt werken in de andere G Suite programma's. Het niet hoeven wisselen van scherm zorgt ervoor dat je jouw werkzaamheden sneller kunt uitvoeren en jouw focus behoudt daar waar jij dat wilt.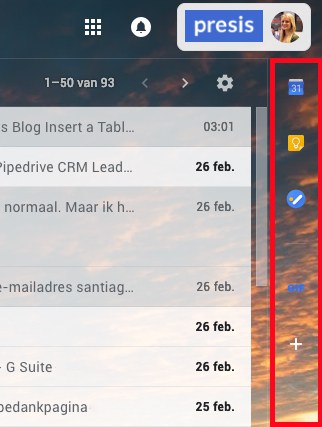 Handig, nu ook in Google Drive!
Ditzelfde handige zijmenu komt ook in Google Drive. Deze wordt op dit moment uitgerold, het kan een aantal dagen duren voordat het zichtbaar is in jouw Google Drive. Is het dus nog niet zichtbaar, dan komt het er binnenkort aan.
Voortaan kun je ook in Google Documenten, Spreadsheets en Presentaties deze opties gebruiken zonder te hoeven wisselen van scherm.
Werk je samen met een collega in een Document en ontstaat er voor jou een nieuwe taak? Dan kun je deze direct op je takenlijst van Google Tasks zetten. Of in jouw Agenda, net waar jij mee werkt.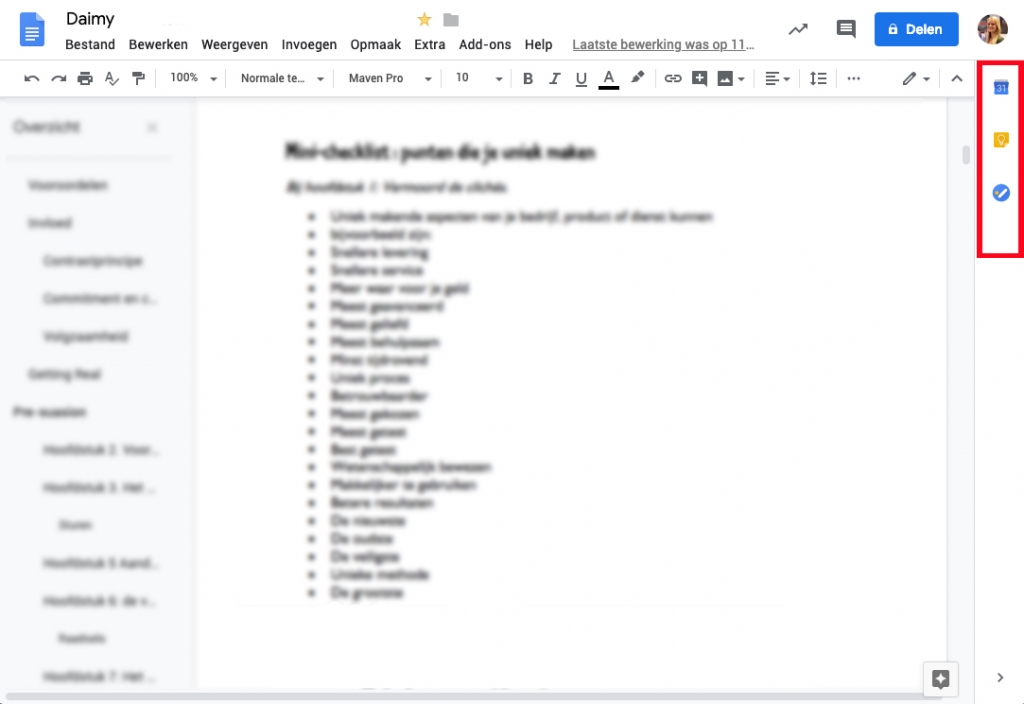 Net iets sneller, een stuk effectiever
Weer helpt G Suite jou bij het snel en effectief werken. Iedere ontwikkeling draagt hier weer een steentje aan bij. Ben je nog niet bekend met Google Keep en Tasks? Dan raden we je zeker aan er eens naar te kijken. Het zijn hele fijne, slimme en gratis apps die je zeker goed kunnen helpen, zowel voor jouw werk als privéleven.
Zo ben ik bijvoorbeeld een dankbare gebruiker van Google Keep. Kom ik een lekker recept tegen, dan sla ik deze hierin op. Als ik boodschappen ga doen maak ik hier mijn boodschappenlijstje in. En als ik ergens ben en er schiet mij iets te binnen, iets dat ik nog moet doen of een goed idee voor werk, dan noteer ik het hierin. Keep maakt mijn dagelijks leven een stuk makkelijker en ik vergeet vrij weinig meer.